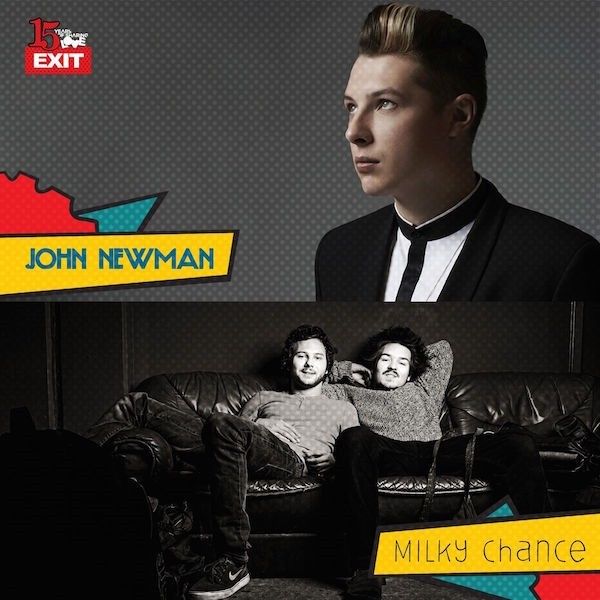 MORE ACTS FOR EXIT 2015
The new British soul star and one of the today's most demanded singers John Newman, is set to perform on Saturday, 11th July at the Main Stage of Exit Festival. The 24-year-old singer-songwriter will present his British top-chart-breaking album "Tribute" along with equally impressive hit singles like "Love Me Again", "Losing Sleep", "Cheating" and "Out Of My Head". He won over top charts in the world with Rudimental and their hits "Not Giving In" and "Feel the Love"! The track "Blame" is still going strong, having made John Newman and Calvin Harris hallmarks of this past autumn and winter! The videos for these hits collectively have nearly a billion views on YouTube, while Newman alone sold over 4 million records in the past couple of years.
John Newman – Love Me Again:

Coming up next on Sunday, 12th July is the indie-pop tandem Milky Chance from Germany! This delicious duo won fans over with their irresistible track "Stolen Dance" and the lauded album "Sadnecessary".
Milky Chance – Stolen Dance:

LEGENDS AND FRESH TALENT UNITES IN BASS LINES AT THE FORTRESS
The legendary DJ and producer, actor, and visual artist, Goldie, will perform at Exit's main stage on 10th July. His performance will be part of the popular X-Bass takeover, which is done in collaboration with the global music platform UKF. The live icon of drum&bass movement and the founder of the pioneering label "Metalheadz" is coming back to Novi Sad for Exit's 15th birthday bash with 20th anniversary since the most influential drum&bass album came out – Goldie's "Timeless"!
Goldie & The Heritage Orchestra – Timeless:

On the same night, the main stage will also host the popular tandem Dirtyphonics from Paris, and 9th July is reserved for the London-born-and-bred DJ and producer Breakage, followed by MC LX oNe. Hip-hop and hard bass fans should highlight July 11th, as Exit hosts the American beat-maker Just Blaze, who produced major hits for Jay Z, Eminem, Kanye West, Snopp Dogg and Rick Ross! On the closing night, July 12th, X-Bass will bring us DJ trio Critical Soundsystem, comprised of Critical Music label founder Kasra, backed by demanded Russian producer Enei and Austrian rising star Mefjus.
Breakage ft. Jess Mills – Fighting Fire:

Tickets for Exit Festival are available from 89£ (122€) +b/f, and for Sea Dance Festival at 49£ (59€) +b/f. The unique ticket for 10 days of Exit Adventure, from Serbia to Montenegro, is available for £105 (145€) +b/f at www.exitfest.org. Additional packages including travel and accommodation can be found at www.exittrip.org.
Camping tickets can be purchased at the price of £25+b/f / €30+b/f for EXIT camp and £25+b/f / €30+b/f for SEA DANCE camp. The EXIT camping site will be open 7th-14th July, while Sea Dance Festival camping site will be open 13th-20th July.
Buy tickets here: www.exitfest.org/en/worldwide