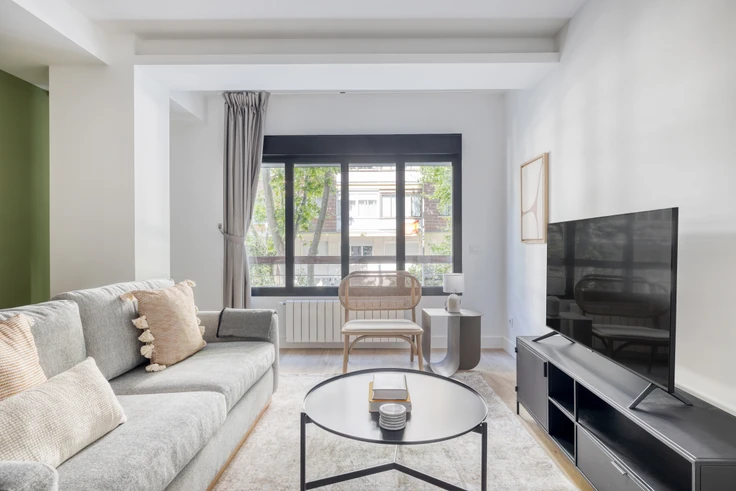 A simple guide to finding a place to live in Madrid
Madrid is one of the most popular cities in Europe and the world at large, and for a good reason. With endless things to see and do, as well as a rich cultural history, this city will appeal to anyone looking to experience something new.
But as with many other major European cities, finding a place to live can be difficult if you don't know where to look. Lucky for you, this guide will outline the steps you need to take to find an apartment or house in Madrid. Let's dive in!
Research ideal neighborhoods you want to live in
There are many great neighborhoods to live in Madrid, depending on your lifestyle and preferences. Some popular ones include Malasaña, Usera, Gran Vía, Chueca, Sol and Barrio de Salamanca.
If you're looking for a spacious and modern area with plenty of amenities, Gran Vía is a great place to start. If you prefer a more traditional neighborhood with a slower-paced life, Usera may be a better choice.
And if you're looking for something in the middle, Chueca is a great option. Other recommended options include San Lazaro, Anchoretas, Arenas de Canillejas and Malasaña.
Search online apartment rental websites
Assuming you're already decided on the neighborhood you want to live in, it's time to start searching for your ideal home.
One of the first places to start your search is apartment rental websites. There are many of them, so look for ones with good ratings and reviews. Here are a few companies where you can find good quality apartments across the city
Blueground, one of the many providers of furnished apartments in Madrid is an excellent place to start. You will find a great selection of premium apartments, fully furnished and equipped with appliances and devices.
Idealista, a large property portal where someone can buy or rent apartments, homes rooms, garages, storage rooms, etc
Airbnb, the most popular online marketplace for vacation apartment rentals.
Housing Anywhere, the online platform where you can rent furnished or unfurnished apartments and rooms.
You can also check out websites dedicated to specific neighborhoods or regions in Madrid, such as bulevar.com or madridvibe.com. Just make sure you read the reviews and make sure to find out about any hidden fees that may apply.
Of course, nothing beats looking through real estate listings in person. Check out magazines like El Tiempo or La Voz de Galicia, or try contacting property owners directly. Just be sure to ask plenty of questions before signing anything—Madrid can be a tough place to start over if you make some mistakes!
Know what you want in a rental
To avoid wasting time and risking getting an underwhelming deal, it's important that you have a clear idea of what you need and want in a rental. Think about your lifestyle. What activities do you enjoy most? How much time are you willing to spend on your commute? Are you looking for a place close to the action, or would you rather be situated further away?
Besides, remember that location is key when it comes to apartments in Madrid. The closer to the center of town you are, the pricier the rentals will be. However, if you're willing to commute, many of the more popular neighborhoods offer great deals on rentals as well.
Finally, keep in mind that Madrid is a large city, so don't expect to find an apartment that's perfect for your needs right away. You may need to travel around a bit before finding something that fits your budget and lifestyle.
Get social
There are plenty of Facebook groups for people living in Madrid and Spain, which can be an excellent resource for finding information about the local community and things to do. Many of these groups also have forums where members can ask advice or make suggestions about their daily lives as residents.
Another way to gather information about expat life in Madrid is to read online articles or blogs written by people who live in the city. These sources can offer valuable tips on how to navigate the local environment, find employment, and connect with other expats.
Review the rental contract carefully
Assuming you've found a decent rental and are ready to make the move, it's time to ensure you know what you're getting into. A rental contract outlines all the terms and conditions of your tenancy agreement, including the monthly rent amount and when the rent is due.
When signing this contract, be sure to review all of the terms and conditions carefully. You should also ask any questions that you may have about the lease agreement before signing it.
If there are any additional costs that you do not understand, such as late payment penalties or renovations that may affect your tenancy, ask the landlord or agent for more information.
Most landlords in Madrid will need you to bring along your passport, ID card, and lease agreement. If you are visiting for less than three months, you may also be able to use your driver's license as proof of your residency.
Welcome to Madrid!
With thousands of people moving to Madrid every year, it can be tough to find a place to live. But with the help of this guide, you should have little trouble finding the perfect apartment or house for your needs. We hope you'll have a stress-free transition and a good time in Madrid!