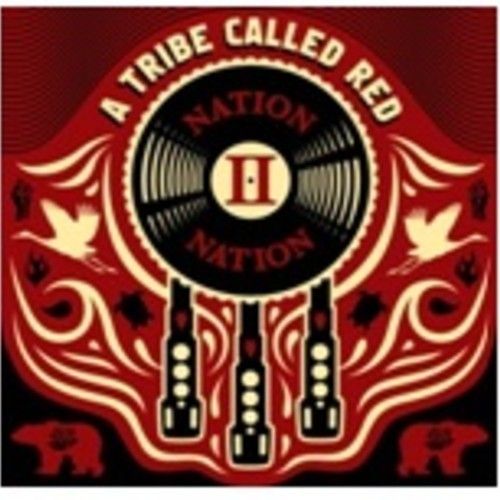 A Tribe Called Red – Nation II Nation
Ottawa-based producer and DJ crew A Tribe Called Red are back with their second LP 'Nation II Nation'. Famed for fusing native pow wow music with contemporary genres such as dubstep and trap with inimitable effect, the trio's music offers something completely original.
Following on from the incredible success of their 2012 self-titled debut – which was long-listed for Canada's prestigious Polaris Music Prize (previously won by Arcade Fire and Feist) and included in the Washington Post's top 10 albums of the year alongside Frank Ocean and Jessie Ware – A Tribe Called Red have produced another unforgettable collection of tracks.
'Nation II Nation', which was recently announced in the shortlist for the 2013 Polaris prize, sees the crew hone their trademark sound with samples of drumming and vocal chants from aboriginal Canadians set to modern dance beats to create a completely unique sound.
There is a strong political and personal message behind the music of A Tribe Called Red. Having previously supported the Idle No More civil rights movement by releasing the powerful single, 'The Road', the group of aboriginal DJs create their music to support and promote the fight for native people's rights across North America.
The band is comprised DJ NDN, DJ Bear Witness and DJ Shub, two-time champion at the Canadian DMC DJ Championships, who, besides from recording their new LP, have found the time to run the very successful monthly Electric Powwow party in their hometown, which showcases native talent and culture to consistently sold-out crowds.
The talented trio recently produced 'A Tribe Called Red' for Angel Haze's forthcoming album 'Gold' and the Pitchfork premiered unreleased Das Racist's 'Indians From All Directions'.
'Nation II Nation' is not just an album of truly unique dance music, it also represents a cultural phenomenon with a powerful message at its core – making it one not to be missed.