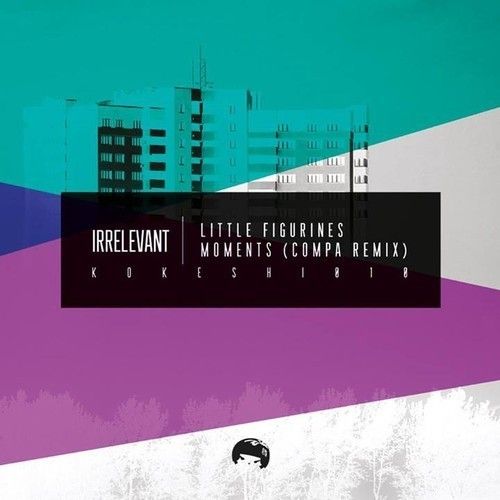 Irrelevant – Little Figurines
London-based bass label Kokeshi is proud to announce the latest release from unassuming future dub producer Irrelevant, 'Little Figurines', his lead single, taken from the upcoming album of the same name.
Irrelevant's 2011 debut album 'I'll Be OK' slotted firmly into the same post-Burial slipstream as Clubroot, Idiot Savant and Consequence, and new single 'Little Figurines' sees the producer expand his stunning sound, drawing on drama, cinematic ambience and elements of dub while showcasing his developing relationship with electronics.
The original track is also accompanied by an eerie remix of new album track 'Moments' courtesy of renowned dubstep producer Compa. Having previously displayed his trademark sound on releases via dubstep royalty Mala's Deep Medi label as well as on his unforgettable and exclusive mix earlier in the year for Mixmag, Compa applies his electric bass rhythms to Irrelevant's track and takes it into unsettling territory.
The Colchester born producer has had no formal music training but grew up around music mainly from his mum and uncle, who pointed him in the right direction musically. His family encouraged him to explore underground music styles whilst appreciating the artists that set the benchmarks for their future predecessors.
Irrelevant has a background as a DJ having spun tech – house for many years, before settling on his current sound. He has also done several live sets for Kokeshi in the UK and abroad. Nowadays, his sets have been described as eclectic, "With regards to Irrelevant as a DJ, I've never settled in one scene, one of my sets could span electronic, house, techno, garage, drum 'n' bass and more."
Irrelevant feels his inspirations haven't changed from the making of 'I'll be OK', but over the past two years, upheaval in his personal life alongside the desire to develop his sound have formed a large part of the tracks on the upcoming album:
"I feel more comfortable with the techniques and equipment I use now too so making the music I want to hear is an easier process"
'Little Figurines' displays Irrelevant's unique sound in full force, and with him being regarded as one of the building blocks of Kokeshi's vision, he will be one to watch in coming years.