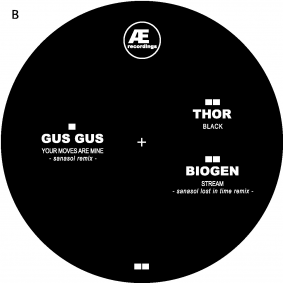 Various Artists - Æ9
The 9th offering from Æ Recordings features an original from Thor and two remixes from Sanasol, with all artists involved coming from the local Icelandic scene.
First up is Sanasol, aka Aðalsteinn Guðmundsson and Thorhallur Skulason, a pair of artists with a big discography under many different names and influences as diverse as dub, pop, techno and minimal. Here they serve up a long lost remix made for GusGus back in 2002: there has been loud demand for this one to appear on vinyl so the waiting is now no more. It's a balearic, tasteful house track with old school vibes and soul infused vocals that will make it a regular in key DJ sets this season.
The B-side finds Æ Recordings label head Skulason going solo under his Thor alias. 'Black' starts with a minimalistic and dubby mood that slowly casts its spell, getting you in a trance with its wet hits and cavernous grooves that exude real class and atmosphere.
Last of all, Sanasol serve up a timeless dub techno remix of the Icelandic electronica wizard Biogen. This warm, rich, immersive piece first saw release back in 1997 but is as vital today as ever.
This is classic dub, house and techno from one of Iceland's most famous labels.
Tracklist:
A1- GusGus – Your Moves Are Mine (Sanasol Remix)
B1 – THOR – Black
B2 – BIOGEN – Stream (Sanasol Lost In time Remix)