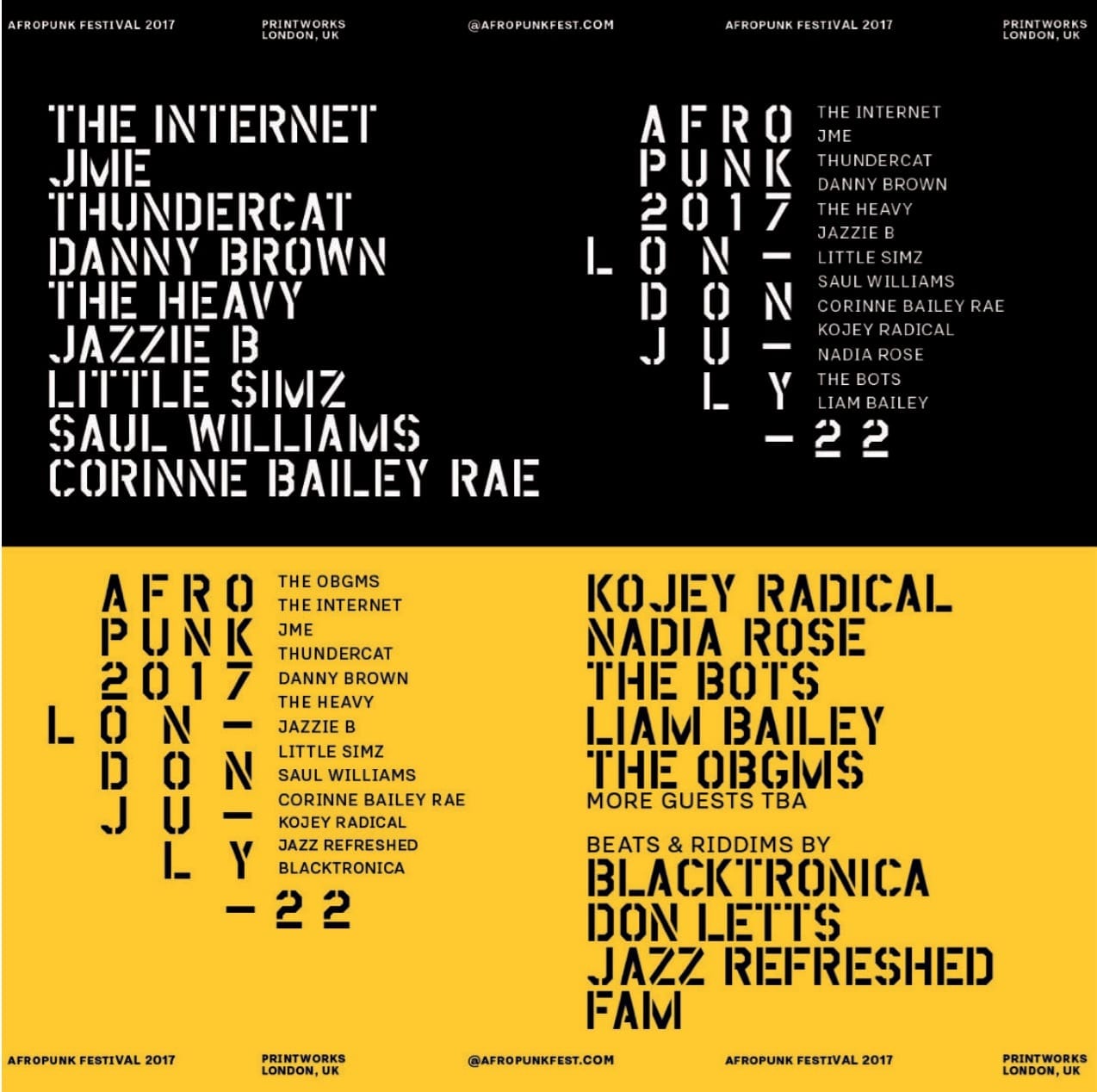 AFROPUNK ANNOUNCE THE INTERNET, LIAM BAILEY AND MORE PLUS BATTLE OF THE BANDS AND SPINTHRIFT MARKET
TEAM AFROPUNK are gearing up for it's second UK edition set to take place at London's freshest venue PRINTWORKS, between the 22nd – 23rd JULY 2017. With the countdown on, AFROPUNK announce the planned day splits across the weekender, and another heavy set of acts playing across the weekend, with THE INTERNET, KIAH VICTORIA, LIAM BAILEY, DON LETTS & THE BOTS set to join forces with LIANNE LA HAVAS, NAO, THUNDERCAT, DANNY BROWN, JME, WILLOW SMITH, JAZZ RE:FRESHED, GAL-DEM DJs, BORN N BREAD and more leading global talent. Full Day splits below.
On top of this, details for the revered AP marketplace 'SPINTHRIFT MARKET' are here, plus a BATTLE OF THE BANDS project in conjunction with Soundcloud and The Roundhouse; granting homegrown artists the chance to perform at AFROPUNK and be part of a development programme. Feel-good vibes, diversity and inclusivity are all at the heart of the AFROPUNK ethos; it's a triumph of multiculturalism and unity for people of all races, genders, colours, creeds and tastes. To be part of the magic, weekend tickets are available from £90.
SATURDAY 22
LIVE ACTS:
THE INTERNET
JME
THUNDERCAT
DANNY BROWN
THE HEAVY
LITTLE SIMZ
SAUL WILLIAMS
CORINNE BAILEY RAE
KOJEY RADICAL
NADIA ROSE
THE BOTS
LIAM BAILEY
THE OBGMS
BEATS & RIDDIMS BY: JAZZIE B / DON LETTS / BLACKTRONICA / JAZZ REFRESHED / FAM
SUNDAY JULY 23
LIVE ACTS:
LIANNE LA HAVAS
NAO
WILLOW SMITH
PETITE NOIR
SATE
CONNIE CONSTANCE
KIAH VICTORIA
MAHALIA
BLACK ORCHID
& more TBA
BEATS & RIDDIMS BY: CLARA AMFO / HANNAH FAITH / JAMZ SUPERNOVA / GAL-DEM / BORN N BREAD