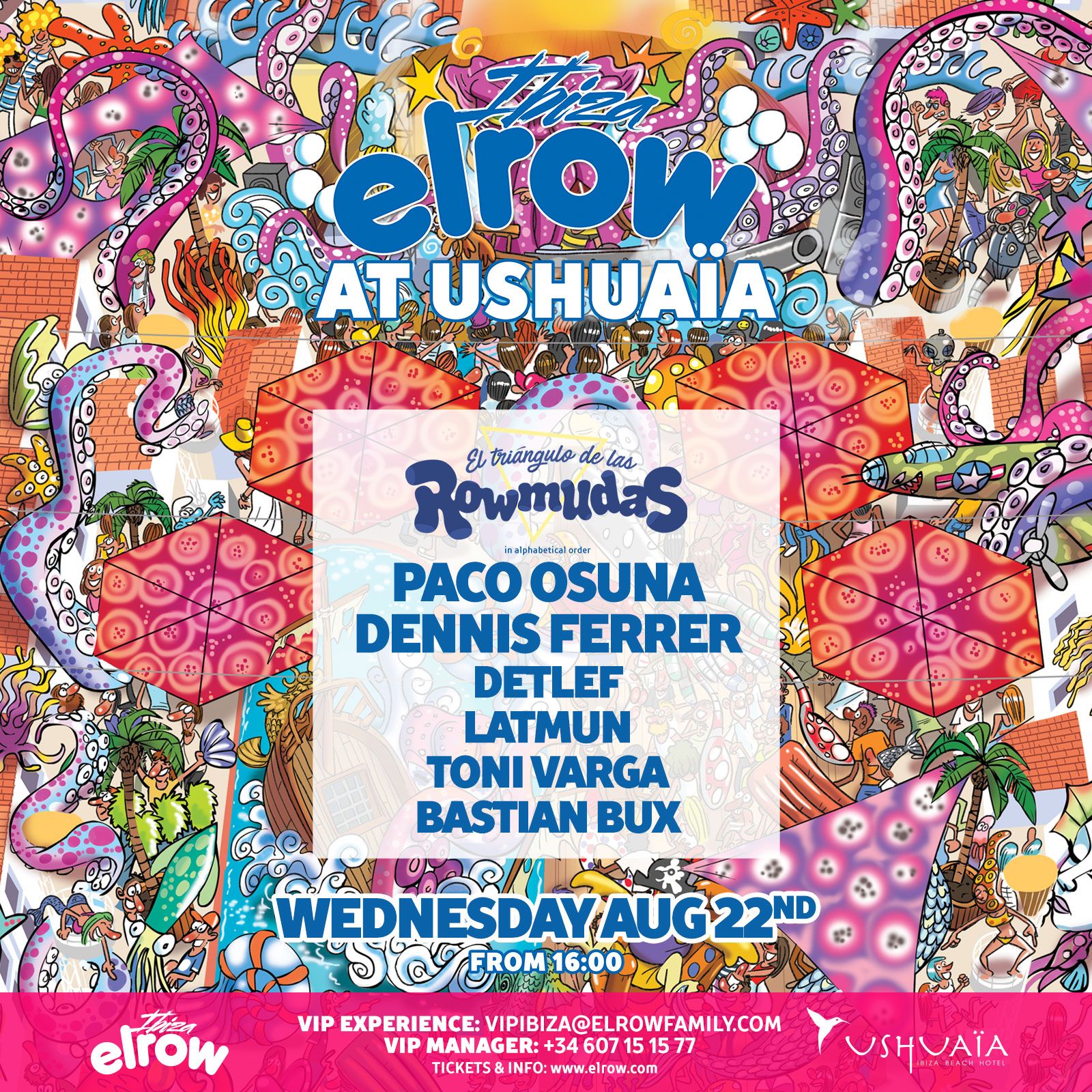 After elrow's debut at Ushuaïa Ibiza last night the next lineup has been revealed
One of the most creative and immersive global party brands 'elrow' will return for another date to the number one Open Air Club. It's their first ever season atUshuaïa Ibiza, and they made sure to bring a superb lineup with them for their second date. And after yesterday's massive first elrow show that's definitely something to look out for.
Get ready for a day with the craziest production and themed party vibe. Next, to the interactive performances and a curated experimental environment of colour, production and confetti, the event on August 22nd will feature once again an exceptional selection of artists.
Headliners Paco Osuna and Dennis Ferrer will take over the elrow stage. With a career spanning more than 20 years, Paco Osuna is one of the most renowned artists in the electronic music industry, and Dennis Ferrer is known as someone who's never content to do the same thing twice. Also, DJ and producer of the highest order Detlef and Latmun with his infectious grooves will join. On top of that, both members of the elrow-family Toni Varga and Bastian Bux will bring their sound to the open-air club.
World-renowned for their spectacular themed events, from a wacky comic-book house to the enchanted forest and a psychedelic hippy commune, elrow's party themes are extensive and always executed on a grand scale, much like those of Ushuaïa Ibiza. For the upcoming chapter, elrow will be adorning their el triangulo de las Rowmudas theme, and bring a pirate ship with a definite sparRow vibe.
Somewhere between Atlantis and Es Vedrá a ship went off course and entered the white island's wildest waters: the Rowmuda Triangle. The party on-board the boat had already been pretty fantastic, but by being swallowed by the island's most dangerous animal: the Kraken, the party-goers are taken into a completely different dimension. Imagine an insane mix of The Island, Lost and also Alive; a wild fiesta full of shipwrecks, crashed planes, insane sea creatures and hippy communes under the sea.
As two of the entertainment industry's most powerful players, both holding an unravelled dedication to curating cutting-edge productions, this collaboration is set to attract global attention. For more information on dates and acts at Ushuaïa Ibiza, visit www.theushuaiaexperience.com.
The jewel in Ibiza's party crown, Ushuaïa's dedication to bringing the most-sought after names to their world-famous stage ensures they remain one step ahead of the game every time. Based on the experiences gathered over the years, Ushuaïa Ibiza is dedicated to providing the best outdoor entertainment possible. The legendary poolside parties have been drawing in the crowds ever since the very beginning. The team behind the #1 Open Air Club raises the bar ever higher, with an impeccable lineup of superstar residents from across the electronic music spectrum playing from daytime to midnight. Not just content with packing their nights full of world class artists, Ushuaïa Ibiza constantly outdoes itself when it comes to phenomenal productions, with a different theme each night of the week. With incredible pyrotechnics, mind-blowing lighting, visuals and a state of the art soundsystem, not to mention the beautifully designed gogo costumes, as well as an abundance of confetti, streamers and CO2, it's no surprise people flock from around the world for the inimitable Ushuaïa experience.
TICKETS: http://ushuaiaibiza.com/xB8wtT
ROOMS: www.theushuaiaexperience.com
USHUAÏA IBIZA BEACH HOTEL
PLAYA D'EN BOSSA, IBIZA
WEDNESDAY AUGUST 22ND
TICKETS ON SALE NOW: http://ushuaiaibiza.com/xB8wtT
PACO OSUNA // DENNIS FERRER // DETLEF // LATMUN // TONI VARGA // BASTIAN BUX