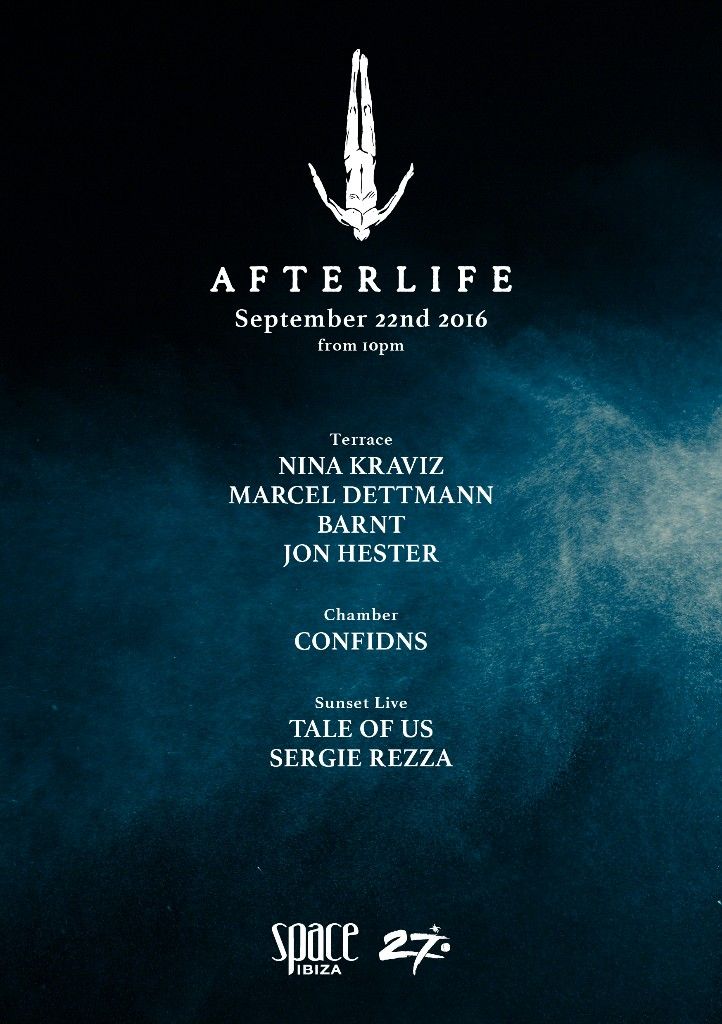 Afterlife at Space: Penultimate showcase sees Nina Kraviz and Marcel Dettmann join Tale Of Us this Thursday 22nd September
The penultimate showcase of Tale Of Us' Ibiza takeover, Afterlife, continues to parse the rigid lines of dance culture with Nina Kraviz and Marcel Dettmann set to join proceedings on September 22nd.
Achieving an arthouse reputation for its contribution to Space's lasting legacy, this week Afterlife's curators will take to the 'Sunset Live' room for an intimate showcase – whilst 'Realm of Consciousness' contributor Jon Hester and Cologne bred Barnt join main room commanders Nina Kraviz and Marcel Dettmann for their residency debut.
Joining Tale Of Us in Afterlife's pioneering 'Sunset Live' room and providing a typically ambient exploration is the fresh-faced collaboration of DJ Deep and Roman Poncet – who together form Sergie Rezza – as they prepare to offer a first chance for many to experience their sheer presence before it is everywhere present.

Afterlife runs every Thursday at Space until 29th September.
Event info:

Date: Every Thursday until 29th September, 2016
Location: Space Ibiza
Ticketing info: http://shop.spaceibiza.com/space-ibiza-2016-en/afterlife-en.html

Line-up:

DJ: Tale Of Us, Dixon, Mano Le Tough, Nina Kraviz, Âme, Recondite, Rødhåd, Marcel Dettmann, Mind Against, Alex.Do, Ateq, Baikal, Barnt, Boddika, Distant Echoes, DJ Harvey, DJ Tennis, Etapp Kyle, Gerd Janson, Hunter/Game, Job Jobse, Jon Hester, Konstanin, Locked Groove, Mattheis, Monoloc, Pisestsky, Ryan James Ford, Sa Pa, Solar, Somne, The Drifter, Thugfucker, Tijana T, Vaal, Wrong Assessment

Live: Âme, Bob Moses, Cassegrain & Tin Man, David August, Howling, Kettenkarussell, Kiasmos, Mathew Jonson, Rival Consoles, Sailor & I, Sergie Rezza, Stephan Bodzin, Todd Terje, Voices From The Lake, Vril, WhoMadeWho, Woo York.