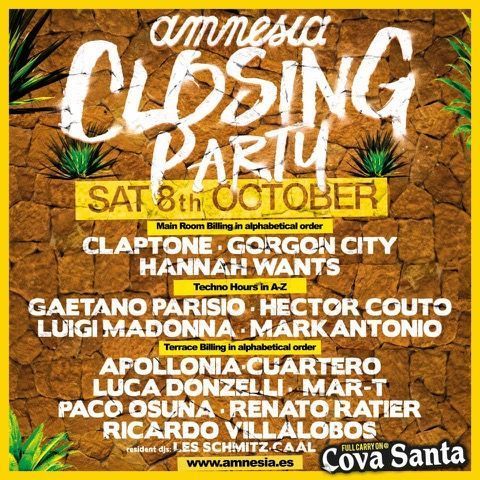 Ricardo Villalobos, Apollonia, Paco Osuna and Gorgon City headline Amnesia closing party…
Always one of the longest and most intense closing parties of the whole Ibiza season, Amnesia have finally revealed details for how their magical summer will end. It takes place on October 8th and headliners are Ricardo Villalobos, Apollonia, Cuartero, Claptone, Gorgon City and Hannah Wants, Luca Donzelli, Mar T, Paco Osuna, Renato Ratier, Gaetano Parisio, Hector Couto, Luigi Madonna and Mark Antonio.
This famous final hurrah plays out across the Main Room and Terrace of the world famous Amnesia, which boasts a vast and cavernous space for dancing, a world renowned sound system and the sort of colourful production, crazy dancers and eccentric party vibes that have made it one of the most famous clubs on the planet.
There is no DJ who is as celebrated as Chilean minimal master Ricardo Villalobos, and with tonight being a final closing party he is sure top pull out all of the stops. French trio Apollonia are also kings of Ibiza and much loved house stars, and for techno offerings look no further than Spanish titan Paco Osuna, while deep house mystic Claptone, plus Spaniards Cuartero and resident Mar T will add plenty of main room vibes to the party.
Add in chart topping UK dance stars Gorgon City, bass obsessed Hannah Wants and D Edge owner and resident Renato Ratier, plus more from the likes of Luca Donzelli, Gaetano Parisio, Hector Couto, Luigi Madonna and Mark Antonio will be sure to keep you dancing for hours and hours with all manner of house, techno and tech treats on offer.
The party doesn't stop there, either, as there will be a special after hours carry on for many more hours at Cova Santa. This is your last chance to get a piece of the action this year, so don't miss out on what is an always legendary occasion.
Links
Tickets: http://www.amnesia.es/ticket/15/320164/en/amnesia-closing-party.html
Facebook Event: https://www.facebook.com/events/325543837791640/