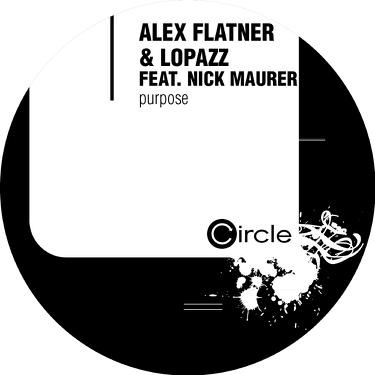 Alex Flatner & LOPAZZ – Purpose
The 43rd release on Circle Music comes from label boss Alex Flatner himself and for this latest musical excursion, the Mannheim based multi-tasking DJ/Producer/A&R/Label Boss is joined by his label friend and colleague LOPAZZ. Together, this exciting duo have already released their superb tracks on labels such as Cocoon, Pokerflat and Get Physical – now they are focusing on their true home, Circle Music.
Alex and LOPAZZ lock themselves in the studio at every available opportunity creating their musical masterpieces and every once in a while a highly interesting taste of their creative juices emerges – "Freedom Of My Heart" (Circle Music) and "Our Love" (Get Physical) being good examples of their studio chemistry together.
For this new EP, on "Purpose" they also present the unique voice of Nick Maurer, highlighting his soulful vocals backed by a catchy House track with a dramatic rolling bass. This is flipped with the more experimental, percussive Minimal track "My Amy" and the dynamic Tech House styled "Tomorrow".
Alex Flatner always attaches great importance to ensuring that only the highest quality music appears on his label and with "Purpose" he has once again produced a memorable, classy, atmospheric EP. This release will also be pressed on black 12" vinyl for all the classical DJs out there.
Further information:
http://www.circlemusic.net
http://www.facebook.com/circlemusicgermany
http://soundcloud.com/circle-music-germany
http://www.beatport.com/label/circle-music/2884