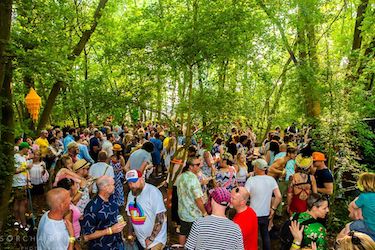 Alfresco Festival Announces Stage Hosts And Line Ups For 2019
Alfresco Festival has announced its stage line ups for 2019, as the carefully curated festival of quality electronic music with a friendly, family vibe, returns for a four day weekend of escapism (23rd – 27th May) in the beautiful woodlands and riverside of Hop Farm in Kent. The list of stage hosts announced gathers together the best in underground electronic music, including World Unknown, We Are The Sunset, Edit Presents, Nein Records, Cowbell Radio, Attic, Maschinenfunk, Wiggle, Body Talk, Kerplunk, Sancho Panza, Forriner Music, Haules Baules, Resonate, Savage Disco and more. Spread across the stages is a huge line up of previously announced artists such as 2ManyDJs, Erol Alkan, Joey Negro, Maurice Fulton, Marc Rebillet (the cult hero's UK festival debut), PBR Streetgang, James Lavelle, Jennifer Cardini, Man Power, Ivan Smagghe, Justin Robertson, Prins Thomas – the list of credible artists goes on and on. Alfresco Festival has now revealed where festival-goers need to be to catch their favourite artists across a long weekend of the coolest electronic grooves amongst, arguably, the UK's friendliest festival crowd. Whether you're there to lose yourself to the music or enjoy some glamping and fun activities with the family, Alfresco Festival is great value. Day tickets start at just £30 + booking fee, an adult weekend ticket from £99 + booking fee and camping starts from just £29 + booking fee, all from www.alfrescofestival.co.uk.
Alfresco organisers are working tirelessly to deliver spectacular production for every stage. With line ups to match, any lover of quality house, techno, disco and electro will find plenty to satisfy their needs across Friday, Saturday and Sunday.

On Friday, World Unknown, the infamous underground London parties with Andy Blake at the helm take over a stage. Andy will DJ, alongside Ivan Smagghe and others. We Are The Sunset take a stage, bringing their Balearic vibes, with PBR Streetgang headlining. Joey Negro headlines the Edit Presents stage, as the northern house, disco and soul groovers head to Kent. Tronik Youth bring Nein Records to host a stage, with a record box full of 80's electronica-inspired tunes. Festival-goers can also find two more stages nestled amongst the trees on Hop Farm, hosted by Pete Callard's Shit Disco and Franklin's RTW takeover.
Friday
WORLD UNKNOWN feat Ivan Smagghe / Andy Blake / Decius / Jaye Ward and more.
WE ARE THE SUNSET feat PBR Streetgang / Nancy Noise / Mind Fair and more.
EDIT PRESENTS feat Joey Negro / Jaegerossa and more.
NEIN RECORDS feat Tronik Youth / The Two Mamarachos and more.
SHIT DISCO feat Pete Callard and more.
RTW feat Franklin and more.
Saturday at Alfresco is a serious treat for the ears. Blackpool's Cowbell Radio hosts a stage teeming with quality including Erol Alkan, Man Power and James Lavelle. Wigan's electronic playground, Attic host a tasty stage with Eric Duncan headlining. Maschinenfunk bring everything rhythmic, percussive and atmospheric with Jennifer Cardini and Prins Thomas among the stars. The original tech house innovators, Wiggle take over a stage and present Terry Francis and Terry Farley among other luminaries. Body Talk head down from Newcastle, delivering underground vibes from Willikens & Ivkovic. Kerplunk stakes a claim as a must visit stage with electronic music aficionados Justin Robertson and Bill Brewster on the bill. Amongst this action, Alfresco festival-goers can also find satellite stages with the one and only, internet sensation, Marc Rebillet headlining, in his UK festival debut, as well as Leftfield's Paul Daley, and Hip-Hop Karaoke!

Saturday
COWBELL RADIO feat Erol Alkan / Man Power / James Lavelle / Vox Low / Warmduscher / Stash Magnetic / Jack Medley's Secure Men / P.I.D.R / Ed Mahon.
ATTIC feat Eric Duncan / Apiento / Donna Leake / Disco Juice / Ovre and more.
MASCHINENFUNK feat Jennifer Cardini / Prins Thomas / Oscillate and more.
WIGGLE feat Terry Francis / Evil Eddie Richards / Nathan Coles / Terry Farley and more.
BODY TALK feat Willikens & Ivkovic / Bird of Paradise / Ian Blevins / Force Majeure / Body Talk DJ's.
KERPLUNK feat Justin Robertson / Bill Brewster / Floydy & Rogers and more.
* Satellite stages headlined by Marc Rebillet / Paul Daley, and Hip Hop Karaoke amongst others.
Sunday at Alfresco keeps up the quality, as the legendary Sancho Panza host a stage, with the versatile, underground hero, Maurice Fulton headlining. Forriner a.k.a Lee Forster and Oli Warriner return to Alfresco with a stage featuring Kuniyuki and Chida. Logan Fisher lines up the Haules Baules Presents stage, with the unmissable headliners 2ManyDJs. Birmingham's home of house, techno and electro, Resonate, steps up to host a stage with Identified Patient topping the bill. East London's Savage Disco queer the dancefloor, dropping naughty disco vibes with Guy Williams and Jonjo Jury. Alfresco guests can also wander the site and discover hidden gems, with stages featuring Neurotic Drum Band, Bawrut, Clandestino, Switch and more.
Sunday
SANCHO PANZA feat Maurice Fulton / Peza / Size Doesn't Matter / Freddy Love / Eren / Matt & Jim Sancho.
FORRINER MUSIC feat Kuniyuki / Chida / Forriner / Dharma.
HAULES BAULES PRESENTS… feat 2ManyDJs / Logan Fisher / Feel The Drive B2B Childsplay and more.
RESONATE feat Identified Patient / Zombies in Miami / Charles Green / Finn & Sam.
SAVAGE DISCO feat Guy Williams & Jonjo Jury.
* Satellite stages featuring Neurotic Drum Band / Bawrut / Clandestino / Switch and many more.

Alfresco Festival is much loved by all who attend. No other festival lets you lose yourself in nature immersed in a soundtrack so expertly curated, yet which maintains the family-friendly vibe of a real community. Genuine legends mix with up and coming talent, as old friends mix with new faces to create a unique atmosphere. Boutique glamping by the beautiful riverside adds to the charm, and for the first time this year, Alfresco also boasts its own motel, bookable by the night.
Alfresco sells out every year and with the range of stages set to entertain now revealed, 2019 will surely follow suit. The woods are calling…
EVENT INFO:
Alfresco Festival
Hop Farm, Paddock Wood, Kent
23rd to 27th May 2019
Tickets available from www.alfrescofestival.co.uk
www.facebook.com/alfrescofestival
www.instagram.com/alfrescofestival/
https://twitter.com/infoalfresco