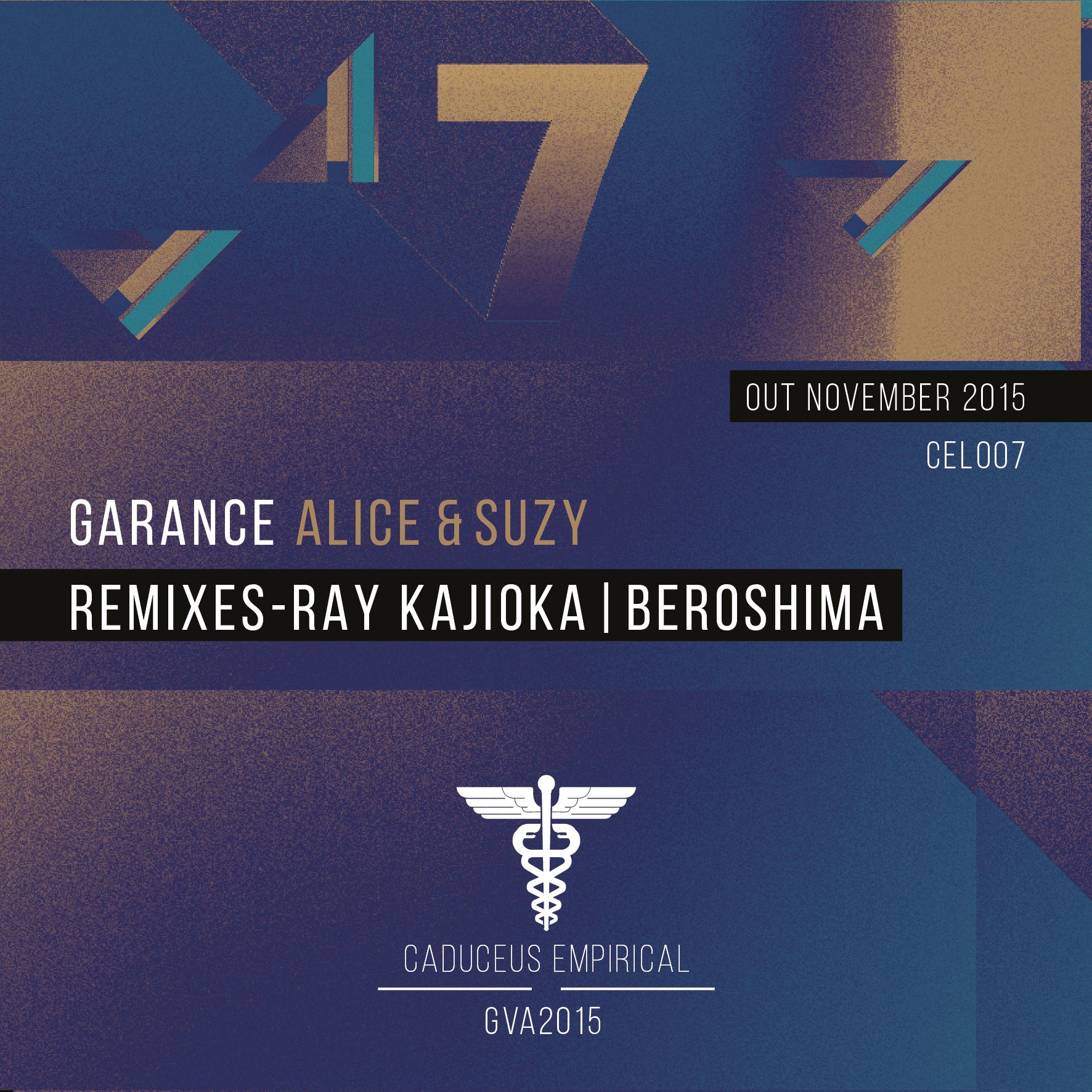 Garance - Alice&Suzy EP
Caduceus Empirical look to Swiss DJ and producer Garance for an excellent new EP that features two top originals as well as remixes by Ray Kajioka and Beroshima.
Garance hails from Geneva and over the course of the last 10 years has built a sterling reputation playing great clubs and festivals such as D Edge (Sao Paulo), Ritter Butzke & Sisyphos (Berlin) Silencio (Geneva) and the Montreux Jazz Festival. Since 2013, inspired by richly layered deep house and techno, Garance has been putting out fine remixes and originals on the lieks of Alex Niggemann's Soulfooded and District Raw and and has built up a solid following as a result. This latest missive is another fine bit of work that continues to mark her out as one to watch.
Excellent opener 'Alice' is a patient, spiritually infused bit of main room techno. Sweeping pads and chords are full of musicality as slick, groove driven drums rumble on below. It is a colourful track that cannot fail to suck you in to its many layers. Ray Kajioka (a veteran German techno producer well known for his output on Kanzleramt Music) turns out a remix that is a more stripped back and supple bit of peak time techno that oozes warmth and soul as it rolls deeper and deeper.
The other great original is 'Suzy' which is slower, more patent and deeper. Rich rubber drums and funky organic finger clicks rub up next to each other as a freeform bass and synth line gently ride up and down. It makes for a moody, dubwise cut full of class. This one gets re-rubbed by Beroshima, who has released hits like 'Horizon' on Cocoon and Soma and is often played by the likes of Sasha and James Zabiela. His take on the fine original is fully laden down with frosty, static laced dub chords, heavyweight drums and frosty techno synths that sound perfectly autumnal.
Garance and Caduceus Empirical prove to be a fantastic pairing here, with lots of club baiting tracks all contained within this fine new package.
Tracklist:
1. Garance – Alice (Original mix)
2. Garance – Suzy (Original mix)
3. Garance – Alice (Ray Kajioka remix)
4. Garance -Suzy (Beroshima remix)