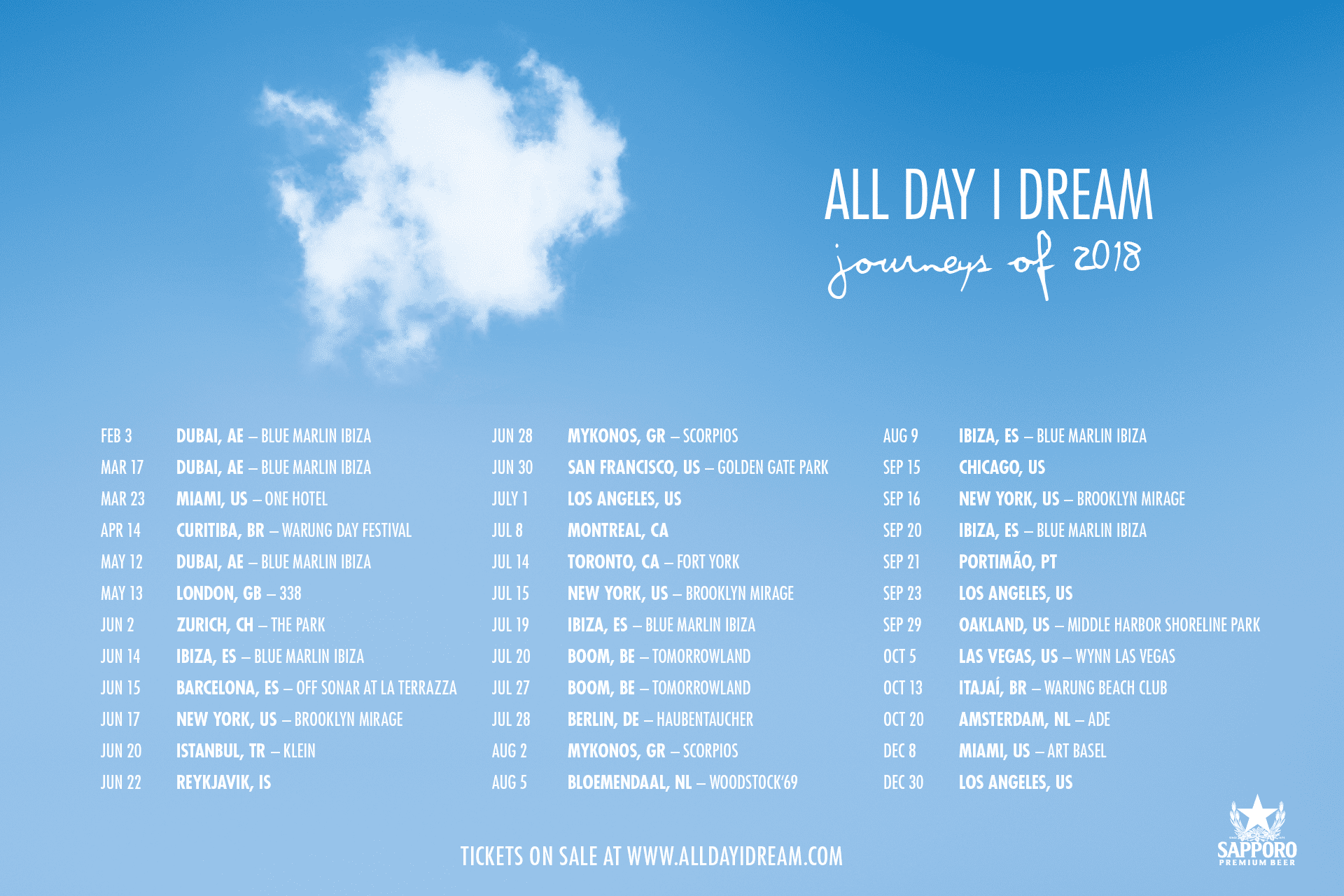 All Day I Dream Announces 2018 World Tour
Lee Burridge's iconic open-air gathering, All Day I Dream, announces its 2018 World Tour. Over the past 8 years the event has evolved from a small monthly gathering into a global movement with thousands around the world enchanted by the roller coaster, journey like quality of Burridge's DJ sets that take place in idyllic one of a kind day-into-night settings.
All Day I Dream has enthralled and charmed its international family of friendly, open minded souls in some of the world's most gorgeous destinations as well as stark cityscapes. With each event rooted in All Day I Dream's singular aesthetic and artistic designs it garners new eccentric party nomads as it goes. All Day I Dream is where structural art and free flowing spirits unite under floating decorations to the melodic spell of All Day I Dream's cast of musical masters.

In 2018 All Day I Dream (gently) expands to more than 50 shows in 20 countries around the planet. Highlights this year include multiple Summer Residency dates in Ibiza and Mykonos, taking place on the beach at Blue Marlin and Scorpio's respectively. Dubai's winter sun season closed out in March leading neatly into Miami Music Week and a stage at Brazil's Warung Beach Club's Festival. London hosts three dates in 2018 while new locations including Istanbul, Iceland and Turkey eagerly await their experience. In the USA New York, Los Angeles and San Francisco continue to host their regular Summer season of events while Toronto, Montreal Chicago, Miami, Detroit, Las Vegas and more entertain single one-offs.

Festival stage takeovers and showcases for the 2018 season will include two weekends at Belgium's Tomorrowland, Amsterdam's ADE, Barcelona's Off Sonar, Iceland's Summer Solstice, and Woodstock '69 in Holland.

In Lee Burridge's own words, "I'd always imagined this music being embraced the way we see it today, but it never ceases to make me smile actually seeing it happen. I'm so excited and humbled at the opportunities ahead of myself and the amazing and talented group of artists around me".

All Day I Dream has earned a truly dedicated global fan base who embody the essence of the worlds of art, wellness, and fashion and wellbeing. Attend any event and you'll be surrounded by nothing but positivity

Outside of the events the All Day I Dream label continues to support newly discovered artists as well as familiar family members like YokoO, Lost Desert, Hoj, Oona Dahl, Gorje Hewek & Izhevski, Powel and Bedouin. Recent releases include PHCK's Elephants, Zone+'s Baia,Sébastien Léger's Lost Miracle, Roy Rosenfeld's When We Were Innocent, and Rebelski's Paper 6-track EP. Each musical moment dreamt up by a loving and sensitive imagination.

The event and label's vibe continues to spread like wildfire. For those in attendance the parties and experience represent a return to the simplest of things; broad smiles beaming from the faces of the beautiful souls who embrace the moment as well as this movement, none broader than that of Lee himself. A delightful and bewitching aural and visual treat for the senses.

About All Day I Dream
The All Day I Dream events began on a Brooklyn rooftop back in 2011 and have since become an international sensation. Around the world, crowds continue to flock to the experience and become part of a community spurred on by Lee Burridge and his unique roster of artists. Each bringing their own unique technicolor emotionalism that's all too rare in our current electronic music scene.

Spreading across the world from New York to Los Angeles, from London to Moscow, Berlin to Beirut, the parties expanded and flourished due in part to Lee's major presence at Burning Man and his desire to create something magical.

Giving the partygoer (or "Dreamer") more than just the usual short DJ set, All Day I Dream aspired to create its own unique ambience through the combination of the musical selection and journey as well as unique venues, each decorated with draped fabric, fairy lights and lanterns creating an unparalleled and magical atmosphere.
All Day I Dream 2018 'Journeys of 2018' World Tour Dates:
Apr 14 – Curitiba, BR – Warung Day Festival
May 12 – Dubai, AE – Blue Marlin Ibiza
May 13 – London, GB – 338
Jun 2 – Zurich, CH – The Park
Jun 14 – Ibiza, ES – Blue Marlin Ibiza
Jun 15 – Barcelona, ES – Off Sonar at La Terrazza
Jun 17 – New York, US – Brooklyn Mirage
Jun 20 – Istanbul, TR – Klein
Jun 22 – Reykjavik, IS
Jun 28 – Mykonos, GR – Scorpios
Jun 30 – San Francisco, US – Golden Gate Park
Jul 1 – Los Angeles, US
Jul 8 – Montreal, CA
Jul 14 – Toronto, CA – Fort York
Jul 15 – New York, US – Brooklyn Mirage
Jul 19 – Ibiza, ES – Blue Marlin Ibiza
Jul 20 – Boom, BE – Tomorrowland
Jul 27 – Boom, BE – Tomorrowland
Jul 28 – Berlin, DE – Haubentaucher
Aug 2 – Mykonos, GR – Scorpios
Aug 5 – Bloemendaal, NL – Woodstock'69
Aug 9 – Ibiza, ES – Blue Marlin Ibiza
Sep 15 – Chicago, US
Sep 16 – New York, US – Brooklyn Mirage
Sept 20 – Ibiza, ES – Blue Marlin Ibiza
Sep 21 – Portimão, PT
Sep 23 – Los Angeles, US
Sep 29 – Oakland, US – Middle Harbor Shoreline Park
Oct 5 – Las Vegas, US – Wynn Las Vegas
Oct 13 – Itajaí, BR – Warung Beach Club
Oct 20 – Amsterdam NL – ADE
Dec 8 – Miami, US – Art Basel
Dec 30 – Los Angeles, US
For More Info and Tickets to All Day I Dream's 2018 World Tour Visit:
https://www.alldayidream.com/

Connect With All Day I Dream:
https://soundcloud.com/alldayidream
https://www.facebook.com/alldayidream/
https://twitter.com/AllDayIDreamOf
https://www.instagram.com/alldayidreamintheclouds/