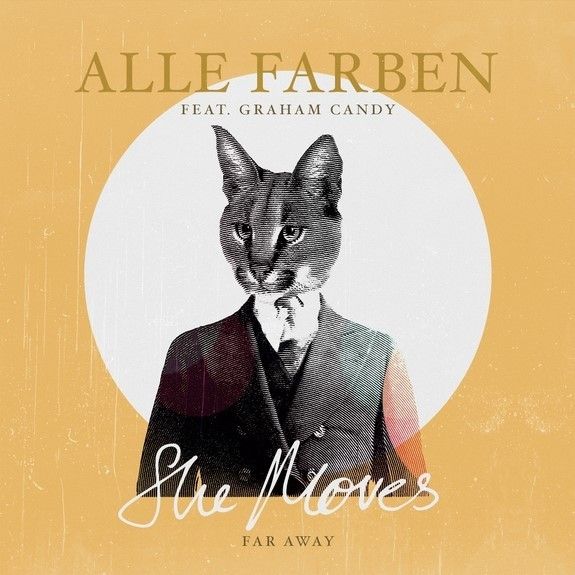 Alle Farben – She Moves
Following the release of the dreamy, melodic house groove 'She Moves (Far Away)' featuring the inimitable vocal styling of New Zealand-born singer Graham Candy, Alle Farben now reveals the official video to this summer anthem.

Shot by London-based French director Franck Trebillac, the three-and-a-half minute film follows a love-drunk, moustached cyclist played by Candy as he undertakes a trek of passion across the world to be with his paramour. Paying close attention to the essence of the song throughout, the video captures the light-hearted and whimsical mood of 'She Moves (Far Away)' by transporting the viewer into the fantasyland of the two lovers. Alle Farben himself appears in a number of guises; startled each time as the bicycle goes through a number of different climates with its rider enduring the elements for his romantic cause.

Fans have been eagerly anticipating more material from Alle Farben since 'She Moves (Far Away)' came out a little over a month ago through Sony International/Guesstimate, but the wait is almost over as the remainder of the EP will be available to buy on Monday 23rd June. Remixes from white-hot Dutch talent Bakermat, South Africa's finest Goldfish, and an additional original production from Alle Farben himself, entitled 'Down', complete the stunning EP; a clear signal of the German's intent in the run up to the release of his debut album 'Synesthesia' later in the year. Further remixes of 'She Moves (Far Away)' and singles are set to come before the album drops, but for now let the exquisite video envelop you with melody and mesmerizing visuals!

Currently on tour in Europe, Alle Farben has infused his already highly-acclaimed sets with the sounds of 'Synesthesia' and is taking them to some of the continent's best clubs and festivals before heading over to the US. He brings to his live shows all the flair, technique and more that you can hear in the tracks and mixtapes that have thousands upon thousands of music lovers tuning in to his SoundCloud for his latest and greatest.