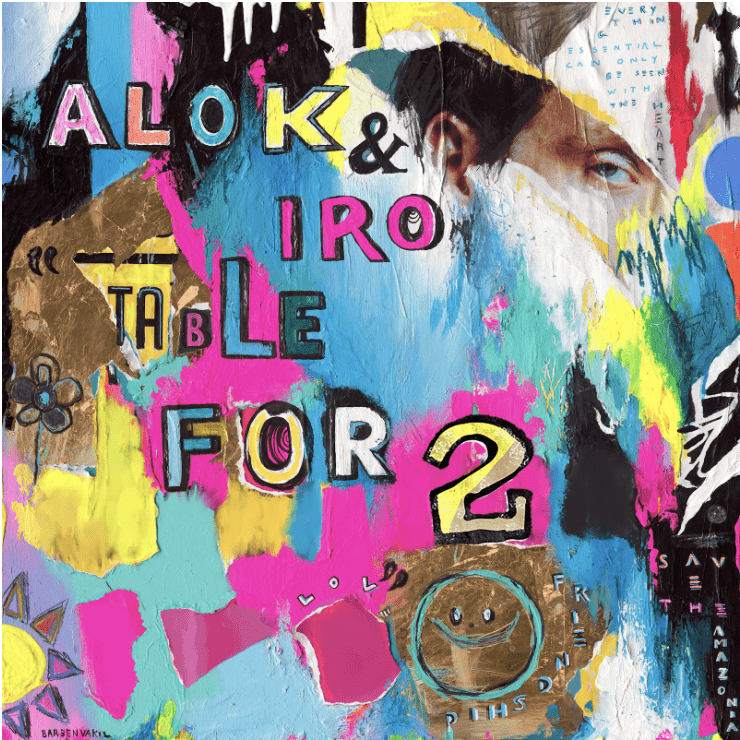 Alok and IRO join forces again on carefree new single 'Table For 2'
Brazilian superstar Alok has linked up with Brooklyn-based singer-songwriter and artist IRO on their new single 'Table For 2', out now.   
A departure from the high-octane bass sound synonymous with Alok, 'Table For 2' is a relaxed, carefree ballad that allows IRO's enchanting vocals come to the fore. With acoustic guitar notes complemented by a catchy whistling tune, the stripped-back production successfully captures the feeling of being in love. Fittingly enough, Alok made the song for his wife Romana Novais and IRO's wife Bar Ben Vakil one of Brooklyn's most prominent up and coming artists, created the official artwork.
Following the release, the official music video will be available on 29th September. Directed by Thiago Eva and Guga Gessullo, the video sees tender moments shared between Alok and Romana as they anticipate the arrival of their first child. The deeply emotive visuals promote the simplicity of love – of what really matters and what people forget with time. 
Originally from Tel Aviv, IRO has spent the past ten years traveling internationally as a full-time busker. IRO shot to fame when he was featured on NBC's hit songwriting competition series Songland, where he penned the winning song 'Shadow' for Grammy Award-winning artist Macklemore, with the song reaching #1 Hip Hop and hitting Top 10 on all genres on iTunes. 
Alok first met IRO on a trip to NYC when he heard him singing in the subway. Not long after, the pair linked up and released their first song together 'Me & You', which has amassed over 140 million streams to date. They worked together again on 'Love is a Temple', a track that generated more than 40 million streams and was used as the Budweiser worldwide campaign song for Tomorrowland, and 'Ocean', a single that clocked up 122 million streams. 
Finishing last year at #13 on the DJ Mag Top 100 list, 2019 has already proven to be Alok's busiest and most successful year yet. He struck a chord with global hit 'All The Lies' – a collaboration with The Vamps and Felix Jaehn which has amassed over 48 million Spotify streams and counting, while also partnering with US artist Sevenn on his remix of Pink Floyd classic 'The Wall', the only official remix of the track along with the Eric Prydz remix. 
On the gig front, Alok is currently in the midst of a mammoth tour of the Americas. In addition to headlining Rock in Rio on 27th September alongside Drake, Ellie Goulding, Bebe Rexha, and more, Alok will play upwards of twenty dates in his native Brazil and two in the US before the end of the year.
Signalling a change of creative direction, 'Table For 2' nevertheless sees Alok at his brilliant best.