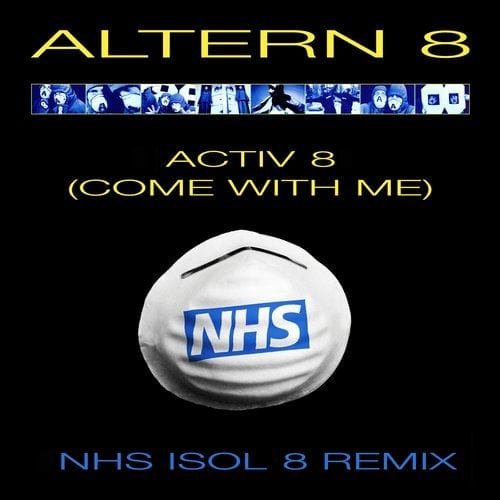 Altern 8 Remix & Release Hit Single For NHS Charity
Marking the return of Rave with a positive project to help support the UK's essential services, Altern 8 motivate communities to support a crucial cause through their music. Masked dance music stars Altern 8 hope to raise thousands of pounds for NHS staff helping patients fight Covid-19 with a charity "Isol-8' version of their biggest chart smash.
The 1991 hit "Activ-8"  – which made number 3 in the charts at the height of the Acid  House boom – has been remixed with a timely message urging everyone to stay safe at home to protect against coronavirus.
Altern 8's Mark Archer was stunned when iconic images from the band's hit album "Full On Mask Hysteria" started appearing on social media sites around the World.
"Everyone suddenly started wearing masks because of Covid-19 and loads of people connected it with us having masks as part of our image. I thought let's try and do something good out of this, and the 'Top One, Nice One, Get Sorted" hook on the track has been replaced by 'Top One, Nice One, self Isol-8'. The  message is be careful out there and let's raise money for a good cause", said Mark.
All monies the release gener8s will go to the Meals For The NHS Fund. The group, record label Network and distributor Above Board will also pass all earnings on to the charity.
The remix has been rush released for streaming  services from Friday 17th and available on digital download platforms from Friday April 24th. Recently garnering support and rotation from BBC Radio 1 and global DJ's and media.
Activ 8 (Come With Me) – NHS Isol 8 Remix
Stream:
Download:
https://lnk.to/ISOL8?fbclid=IwAR3KXC6qY97NxjJFO-FOXRJtavo9MHOMAuCeRtQzvWFW2puXRIVxh8Aq0Mk
Website & Socials:
https://www.facebook.com/fullonmaskhysteria/
https://www.instagram.com/altern8official/
http://www.facebook.com/markaaronarcher
Label & Distribution:
https://aboveboarddist.co.uk/label/network-records/
Press: