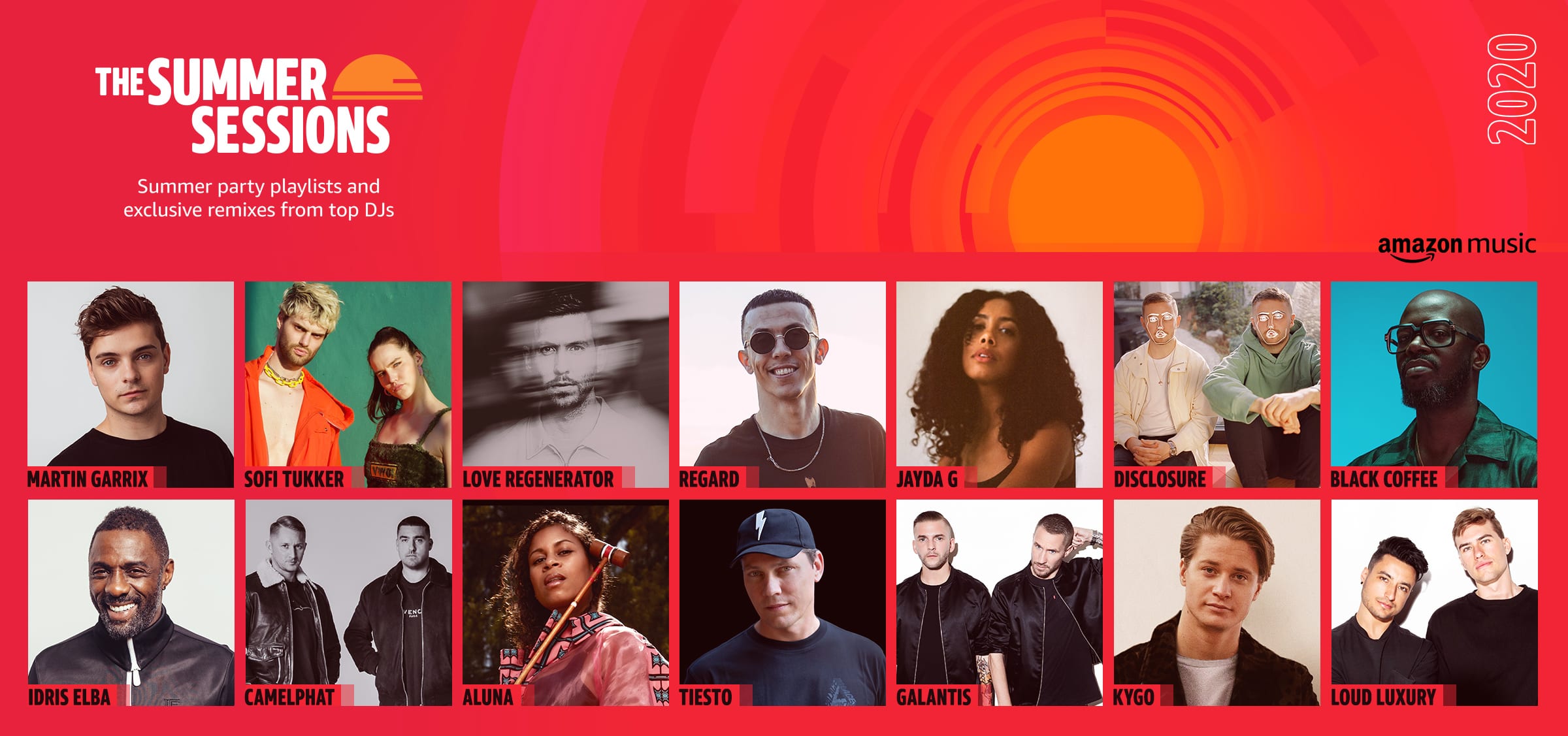 Amazon Music announce some of the biggest names in dance music for "The Summer Sessions"
Amazon Music announce some of the biggest names in dance music for "The Summer Sessions"
Martin Garrix, Love Regenerator, Jayda G, Tiësto, Kygo, Galantis and Disclosure among the DJs confirmed to curate their own summer playlists and release brand new Amazon Originals exclusively on Amazon Music
Amazon Music today announced a scorching line-up of dance DJs and producers – including Martin Garrix, Calvin Harris' project Love Regenerator, Jayda G, Tiësto, Kygo, Galantis and Disclosure for 'The Summer Sessions' – a selection of playlists launching July 17, hosted by some of the biggest names in dance music in weekly rotation.
Each party playlist, available exclusively to Amazon Music Unlimited and Amazon Music HD customers globally, will showcase the DJs ultimate summer dance anthems, packed with the best new electronic music as well as dance classics. New playlists will drop every Friday until 8/28.
A global line-up of dance DJs form The Summer Sessions line-up:
Disclosure / Galantis / Jayda G/ Kygo / Love Regenerator / Martin Garrix / Tiësto
Aluna / Bklava / Black Coffee / CamelPhat/ Chromeo / Eats Everything / Faithless / Felix Da Housecat
Felix Jaehn / Frank Walker / Gamper & Dadoni / Groove Armada / HUGEL / Idris Elba / Jerome
Juan Magán / LUM!X / Loud Luxury / Martin Jensen / MK / Monki / Prospa
Purple Disco Machine / Regard / Sinego / Sofi Tukker / Solardo / The Wookies / VIZE
As a part of the Summer Sessions campaign, the headline DJs – Martin Garrix, Jayda G, Disclosure, Kygo, Love Regenerator, Tiësto, and Galantis – will also be releasing brand new Amazon Original tracks, available exclusively on Amazon Music. The Amazon Original tracks are:
Martin Garrix – "Higher Ground" (DubVision Remix)
Jayda G – "Are U Down" (Kootenay Klub Mix)
Disclosure – A Joe Goddard Remix of their forthcoming new single
Kygo -Track to be announced
Love Regenerator, Steve Lacy – "Live Without Your Love" (Solardo Ball Bass Remix)
Tiësto – Track to be announced
Galantis & Dolly Parton – "Faith" (Sondr Remix)
Talking about his playlist, Martin Garrix says: "I'm super happy to be sharing my summer playlist for everyone to be able to enjoy from the comfort of their own home or wherever summer will take them. I hope it will bring some good vibes!"
"I'm excited to be a part of Amazon Music's Summer Sessions campaign again, this year brought to you by Love Regenerator. It features big tunes from some of my favourites over the years plus an exclusive Solardo remix of my latest single, 'Live Without Your Love'", says Calvin Harris.
Jayda G says: "This playlist is an array of tunes that are here to make you feel good during times where finding joy can be difficult. Here is to lifting your heart up. Also an exclusive remix for your ears. I made this track in my hometown, deep in the Kootenay mountain region of Canada – club vibes to make you dance in your living room."
"I'm really excited to share my very special Amazon Summer Sessions Playlist. It will be filled with nothing but great vibes and feel good music to brighten up your summer! You can also expect a very special surprise" says Tiësto.
Galantis say: "I wanted to make a playlist that included some new favourites, as well as classic tunes. Music reminds us that we are not alone and we are a part of something much bigger. I think now more than ever, we need positivity and a sense of community."
Disclosure say: "The clubs might be closed and the festivals postponed but our Disclosure Summer Sessions playlist gives you a taste of what we'd be playing to soundtrack your summer. Hope you enjoy."
Aluna says: "These are my summertime jams, perfect for a slow bump and grind holding a cold drink in one hand and an ice cream in the other."
Monki says: "Here's a playlist of records that I would blare through my car speakers on a summer's day. Full of feel-good classics, house and techno – new and old".
Sofi Tukker say: "Some of our favourite tracks to play during our 100+ days of daily livestreams. If you're not dancing to these, Tucker doesn't know you. Freak fam, stand up!"
Felix Da Housecat says: "From memories 2 childhood 2 Mind Love Meditation, 2 the artist who somehow inspired me and got me through this journey called LIFE."
To hear a DJs Summer Sessions playlist, Amazon Music customers can simply ask, "Alexa, play The Summer Sessions with (DJs Name)" in the Amazon Music app for iOS and Android and on Alexa-enabled devices.
The Summer Sessions schedule is:
7/17: Martin Garrix (headliner) plus additional playlists from Bklava, MK, Sofi Tukker, Felix Jaehn, Purple Disco Machine, Chromeo, Sinego and The Wookies
7/24: Jayda G (headliner) plus additional playlists from Regard and Loud Luxury
7/31: Disclosure (headliners) plus additional playlists from Prospa, Black Coffee, VIZE and Juan Magán
8/07: Kygo (headliner) plus additional playlists from CamelPhat, Felix Da Housecat, LUM!X, Frank Walker and HUGEL
8/14: Love Regenerator (headliner) plus additional playlists from Aluna, Monki, Gamper & Dadoni and Jerome
8/21: Tiësto (headliner) plus additional playlists from Eats Everything, Idris Elba and Martin Jensen
8/28: Galantis (Closing party headliner). All playlists will be re-promoted globally, including additional playlists from Groove Armada, Faithless and Solardo.
Week 1 of The Summer Sessions playlists are now live: