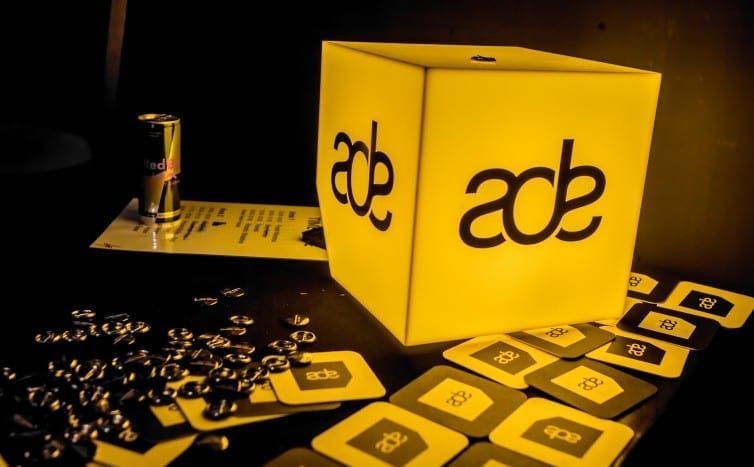 Amsterdam Dance Event announces more acts and the launch of ADE SLEEP/OVER
ADE 2016 announces second wave of festival acts and the launch of ADE SLEEP/OVER, a new campsite at NDSM wharf.
The Amsterdam Dance Event (ADE), the world's largest club-based festival and conference for electronic music, will take place this year from the 19th to 23rd of October. The organisers are expecting around 375,000 national and international visitors for the 21st edition. The second wave of festival acts is revealed today, along with the launch of ADE SLEEP/OVER – a new campsite at the NDSM Wharf which features a range of free special talks and performances for festivalgoers.
As previously announced, this year's Amsterdam Dance Event Festival will open with 'Scripted Orkestra', a collaboration between the acclaimed producer/composer/performer Henrik Schwarz and the world's leading non-classical orchestra Metropole Orkest. With the latest addition of Ben Klock (DE), Daniel Avery (GB), Fedde Le Grand (NL), Jeff Mills (US), Noisia (NL), Rebolledo (MX), Ricardo Villalobos (CL) and Skepta (GB), ADE's Festival line-up is starting to take serious form. Among the second selection of artists are:
Acid Arab (FR), Agoria (FR), Alesso (SE), me (DE), AnD (GB), Andhim (DE), Arjun Vagale (IN), Art Department (CA), Barnt (DE), Bart Skils (NL), Ben Klock (DE), Benny Rodrigues (NL), Cari Lekebusch (SE), Cassy (GB), Chris Liebing (DE), Christian Smith (SE), Coyu (ES), Crystal Castles (CA), CUT_ (NL), Daniel Avery (GB), Daniel Miller (GB), Dannic (NL), Dano (NL), Derrick May (US), DJ Nobu (JP), Dollkraut (NL), Dubfire (US), Elias Mazian (NL), Ellen Allien (DE), Etapp Kyle (UA), Fedde Le Grand (NL), Floorplan (US), Frankey & Sandrino (DE), Gerd Janson (DE), Gregor Tresher (DE), Hector Couto (ES), Henry Saiz (ES), Hernan Cattaneo (AR), Hot Since 82 (GB), Ida Engberg (SE), Jamie 3:26 (US), Jamie Jones (GB), Jarreau Vandal (NL), Jeff Mills (US), Jennifer Cardini (FR), JP Enfant (NL), Karenn (GB), Karotte (DE), KiNK (BG), Kryder (GB), Kypski (NL), Laurent Garnier (FR), Locked Groove (BE), Loco Dice (DE), Louisahhh (US), Maceo Plex (US), Magda (PL), Marcus Worgull (DE), Margaret Dygas (GB), Mathew Jonson (CA), Michael Mayer (DE), Miss Kittin (FR), Mitchell Niemeyer (NL), Monika Kruse (DE), Nicky Romero (NL), Noisia (NL), Paco Osuna (ES), Patrick Topping (GB), Paul Ritch (FR), Paula Temple (GB), Raresh (RO), Rebolledo (MX), Rhadoo (RO), Ricardo Villalobos (CL), Richy Ahmed (GB), Robert Hood (US), Roman Flügel (DE), Route 94 (GB), RÜFÜS (AU), Russ Yallop (GB), Sandrien (NL), Secret Cinema (NL), Skepta (GB), Slam (GB), Sofie Winterson (NL), Sonns (GR), Speedy J (NL), Stephan Bodzin (DE), Steve Rachmad (NL), STUFF. (BE), SUUNS (CA), The Advent (PT), The Chainsmokers (US), The Darkraver (NL), Tripeo (NL), Tube & Berger (DE), Zes (NL)
These acts join previously announced artists including:
Adam Beyer (SE), Axwell Λ Ingrosso (SE), Blind Observatory (DE), Craig David (GB), Dave Clarke (GB), Dixon (DE), DVS1 (US), Hardwell (NL), Jackmaster (GB), Joris Voorn (NL), Kölsch (DK), Levon Vincent (US), Martin Garrix (NL), Maya Jane Coles (GB), Nicole Moudaber (GB), Octave One (US), Palms Trax (DE), Rebekah (GB), Recondite (DE), Richie Hawtin (CA), Seth Troxler (US), Shanti Celeste (CL), Sven Väth (DE), Tale of Us (IT), The Martinez Brothers (US), and Tiësto (NL).
For a complete overview: www.a-d-e.nl/artists/
ADE SLEEP/OVER at NDSM
This year ADE introduces ADE SLEEP/OVER, a pop-up campsite located on the impressive post-industrial site of the NDSM Shipyard, only 15 minutes away from the city's Central Station. A brand new addition to complement the 24/7 ADE experience, the spacious campsite offers over four hundred comfortable, heated, sleeping accommodations with jaw-dropping views over the city of Amsterdam.
Besides a unique stay and meeting point, ADE SLEEP/OVER, an initiative by Amsterdam Dance Event, Wink and the NDSM Foundation in collaboration with Camping De Lievelinge and CampSolutions, is also the place to experience a taster of what the wider ADE program has to offer. ADE SLEEP/OVER and the industrial backdrop of the NDSM Shipyard will play host to it's very own program, including music events, artist talks and contemporary art installations. More information about the full ADE SLEEP/OVERprogram to be announced.
ADE Conference: further keynote speakers announced
Scottish electronic music pioneer Hudson Mohawke, groundbreaking L.A. collective Soulection, Grammy Award winner Om'mas Keith, Dutch MC's Sevn Alias and Hef and many more are among the first speakers announced for this years ADE Beats, ADE's annual platform for hip-hop, bass and beats, which returns to the Melkweg. Plus, Raphael Aflalo, CEO and co-founder of My Love Affair, will share his insights on Thursday October 20th, during ADE Dance & Brands, the sub-conference dedicated to connecting brands with the electronic music scene. They join previously announced speakers including: Steve Bartels (CEO Def Jam, US), top producers Tommy D (GB) and Luca Pretolesi (IT), Dan Miller (Mute Records, GB), Bruce Eskowitz (COO Red Light Management, US) and Molly Neuman (Head of Music Kickstarter, US).
About ADE
In the past twenty years ADE has grown into a globally renowned platform for the international dance and electronic music scene. The festival is the perfect place to spot the latest musical trends and emerging talents, as well as hearing the most recent work of both electronic music pioneers and current superstar acts. In addition to the extensive line-up of the ADE Festival, the ADE Playground offers music enthusiasts a large and varied daytime program including exhibitions, in-store promotions, pop-up stores and film screenings all over the city center. The business aspect of the event (ADE Conference) is recognized as the most important of its kind, presenting a broad range of conferences and networking opportunities that focus on music and technology, VJs & visuals, sustainability, dance & brands, harder dance styles, new talent and the education of students.
The Amsterdam Dance Event takes place from the 19th to 23rd of October, 2016.
For more information about ADE: www.a-d-e.nl
The Amsterdam Dance Event is organised by the Stichting Amsterdam Dance Event, an initiative of Buma. ADE Official Partner: KPN