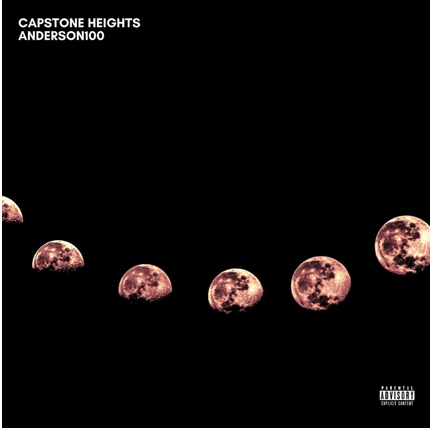 Anderson 100 Links Up With Capstone Heights On Joint EP
Birmingham stands up with the born, bred, mixed and mastered 'New Moon' EP dropping from two of the city's finest, Capstone Heights and Anderson 100. Linking up for a five-track collaborative project, combining innovative melodies and flows, the two release on one of Birmingham's most exciting independent labels of recent times, 'Dudley Road Records' created by non-other than Brum legend Daniel Sturridge.
The lead single off the EP 'Spazzin/Mad Move', released early as a taster, has a soft intro-duction that leads into a heavy, clattering drill beat produced by Malice Beats. It features Anderson 100 and Capstone Heights going back to back as they ride the riddim with a gritty, scattergun flow, paying homage to their hometown and the great game of football too.
Together Capstone Heights and Anderson 100 encapsulate the influences and culture of their hometown Birmingham. 'New Moon' has a unique sound combining heavy beats, with Anderson's recognizable skippy rap flow, and soulful, creative lyricism from Capstone. The EP is home to five tracks, titled 'Spazzin/Mad Move', 'Top Boy', Ashanti', 'Shisha' and 'Bro Off The Road'. 
Over recent months Anderson 100 has released an onslaught of music and made serious gains in the rap scene. Tipped as "…an artist with so much promise" by the likes of  Kenny Allstar (BBC Radio 1Xtra), he's also reeling in support from some of the U.K's top DJ's across Capital, Beats1 and 1Xtra, with joints such as 'Bae Goals' and 'House Rules'. As a musician Anderson 100 has built a loyal and increasingfanbase from being able to produce unorthodox sounds whilst portraying integrity through the vibes his music gives, he expresses himself freely and is recognisable by the music he creates.
Singer/songwriter Capstone Heights is known for seamlessly merging multiple genres using 808 beats with hints of Soul, Hip Hop and R&B, to create a cutting edge experience for his listeners, exemplified in soulful tracks such as 'Destress' and 'Champagne'.
Offering something new and unique, Anderson 100 and Capstone Heights prove why UK regional rap is flying high and put themselves on course for being frontrunners of not just Birmingham based artists, but the UK rap scene.
"We want to show the levels, Birmingham is full of potential and we're up next".
Check out NEW MOON EP out now across all DSP's.