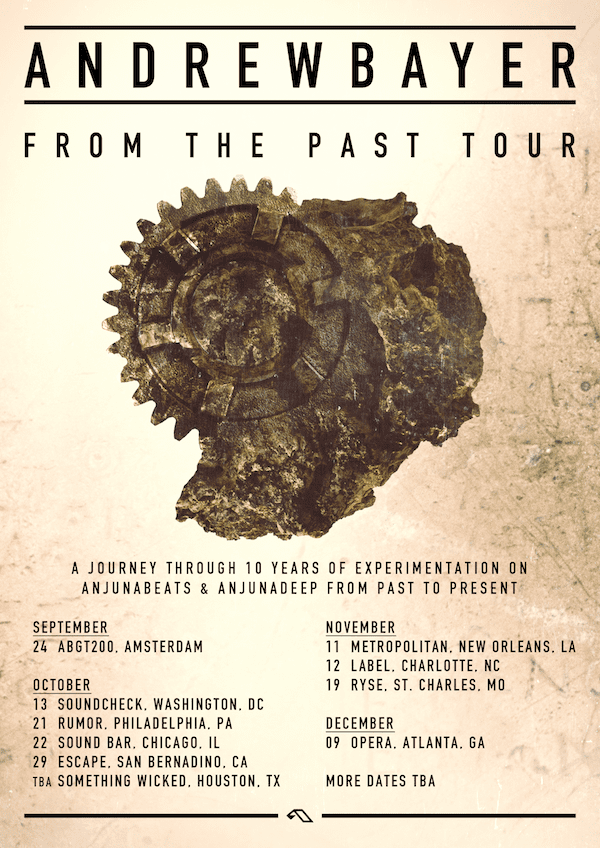 Andrew Bayer Revisits The Old & Presents The New w/ 'From The Past' Tour
Andrew Bayer's ability as a producer is well known to transcend genre and style. Over his well-established career he has used his abilities to grow as an artist and create a discography that has spanned from big room trance music, to deep house, to progressive, to ambient and electronica.
In conjunction with his forthcoming 'From The Past' single, which evolved over a 10-year period, Andrew will be celebrating his creative output across that decade with a short, end-of-year tour that promises favorites, classics and forgotten gems from across his rich, varied discography.
"From The Past was a track I started over 10 years ago now that I recently found on my hard drive," describes Andrew. "It's gone through a few different iterations over the years, evolving into its current form over the past couple of months. It's been a huge track in my recent sets and definitely harks back to my earlier influences."
"My recent three hour set at The Observatory was one of those rare chances I got to really dig deep into my discography, and play some of the deeper tracks from my Anjunadeep days and even some old Signalrunners favorites," explains Andrew. "I wasn't sure exactly how it would go down, but the response was completely crazy and it turned out to be one of my favorite ever sets… it felt natural to roll it out across some more dates"
Appropriately, Andrew has also recently released a remix of the Push classic 'Strange World'. Originally released on the Bonzai label in 2000, 'Strange World' gets a respectful but innovative remake for modern floors thanks to Bayer's Midas touch.

www.Facebook.com/bayermusic
www.Twitter.com/andrewbayer
www.Soundcloud.com/andrewbayer
www.Anjunabeats.com
www.Facebook.com/Anjunabeats
www.Twitter.com/Anjunabeats