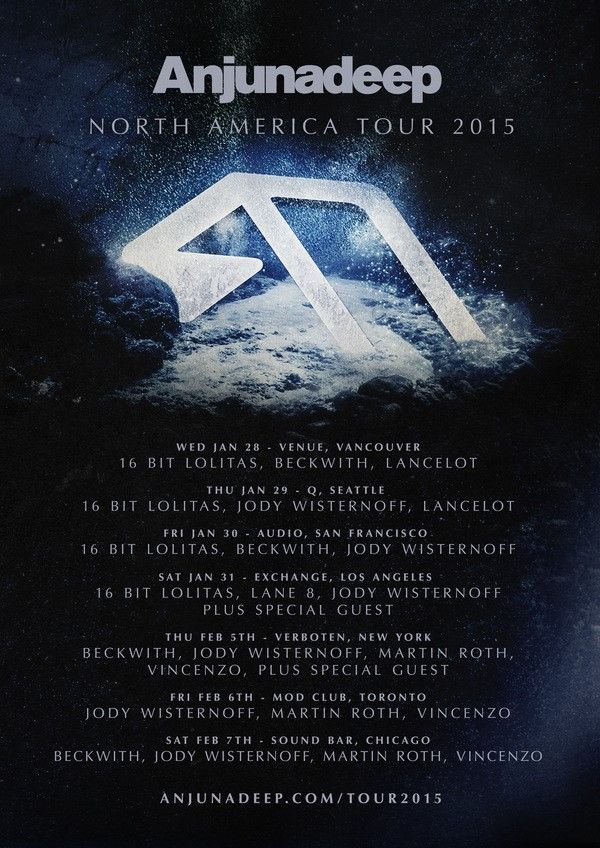 Anjunadeep Label Tour Lineups Revealed
Since it's inception in 2005, Anjunadeep has grown into one of the dance music world's most respected imprints.
Now nearing its 10-Year Anniversary, and boasting over 200+ releases, the label claims strong, ongoing support from many of the scene's key tastemakers – Pete Tong, Annie Mac, Jason Bentley, Zane Lowe, Disclosure, Sasha, Eric Prydz, Todd Edwards, Tensnake, Larry Heard, Lee Burridge, Damian Lazarus and many more. From breaking the renowned house and techno duo Dusky, to releasing a yearly compilation series that boasts 2 iTunes Dance #1s in a row, to now hosting festival stages (begun at TomorrowWorld this September) and launching this tour, the trajectory is clear – Anjunadeep's footprint is growing.
Covering seven cities across Canada and the US, the label is now proud to announce a lineup showcasing the full Anjunadeep spectrum, from established label legends to exciting new talent. Joining the tour will be (in alphabetical order) 16 Bit Lolitas, Beckwith, Jody Wisternoff, Lancelot, Lane 8, Martin Roth and Vincenzo.
Anjunadeep Winter Tour 2015 Artist Lineup By City >> ALL TICKETS AVAILABLE HERE
*All names listed alphabetically
Vancouver, BC – Wednesday, January 28 @ Venue
16 Bit Lolitas, Beckwith, Lancelot
Seattle, WA – Thursday, January 29 @ Q
16 Bit Lolitas, Jody Wisternoff, Lancelot
San Francisco, CA – Friday, January 30
16 Bit Lolitas, Beckwith, Jody Wisternoff
Los Angeles, CA – Saturday, January 31 @ Exchange
16 Bit Lolitas, Jody Wisternoff, Lane 8 + Special Guest TBA
New York, NY – Thursday, February 5 @ Verboten
Beckwith, Jody Wisternoff, Martin Roth, Vincenzo + Special Guest TBA
Toronto, ON – Friday, February 6 @ Mod Club
Jody Wisternoff, Martin Roth, Vincenzo
Chicago, IL – Saturday, February 7 @ Sound Bar
Beckwith, Jody Wisternoff, Martin Roth, Vincenzo
Artist Information
16 Bit Lolitas – Ariaan Olieroock & Peter Kriek, AKA 16 Bit Lolitas, are back stronger than ever this year. After a short hiatus, in which they worked on some different non-dance projects, they partnered up again with Anjunadeep to bring a series of strong releases in 2014. The first release, 'Beat Organ EP,' has been received very well by fans and DJ's all across the world, charting in Beatport's deep house top 10 for 5 weeks, followed by the fantastic 'Deep In My Soul EP.'
Beckwith – As described by DJ Mag, Paul Beckwith is "breaking through with a fresh house sound founded on bulbous bass and crisp melodies." Boasting an elite list of collaborations, including Kele (Bloc Party), Kevin Saunderson, MK, Crookers and Andrew Bayer, the past few years have seen Beckwith release a string of smashes on Anjunadeep, including the 'Anandia' EP, and most recently "Take Me Home" featuring Natalie Conway.
Jody Wisternoff – Jody boasts a DJ/producer career that spans three decades, and his contributions to Anjunadeep are really indescribable. He now helms the yearly compilation, along with James Grant, and has played an integral roll in bringing new talent to the label, as he did with Lane 8 a few years ago. His most recent release, "Paramour," was one of the imprints most acclaimed singles of 2014.
Lancelot – Hailing from Australia, Lancelot was named a 2014 artist to watch by Mixmag, and officially broke onto the scene with his smash Anjunadeep release "Givin' It Up," a tune that was premiered by Pitchfork ("a deep house belter") and received support from MK, The Magician, Bondax and more. Following that success, he released "Ain't Got Nothin' Goin' on But the Rent," the video of which was featured on Thump's YouTube Channel.
Lane 8 – Lane 8, aka Daniel Goldstein, has become know as one of dance music's finest young talents. His releases are supported by an incredibly diverse selection of A-list tastemakers, from Odesza to Pete Tong, B. Traits to Above & Beyond, Tiesto the The Magician. In 2014 alone, Daniel remixed both Above & Beyond and Eric Prydz, while releasing Anjunadeep smashes "I Got What You Need (Every Night)" and "Diamonds," the latter of which went #1 on Hype Machine.
Martin Roth – Berlin based Martin Roth shot to prominence in 2009, topping the Beatport Top 100 no less than five times, eventually being named one of their Stars of 2009. In the years since then he has cemented his reputation as one of the most talented house and techno producers around, with Anjunadeep classics including "Beautiful Life" and "Make Love To Me Baby," as well as releases on Get Physical and Sudbeat receiving support from Solomun, Hernan Cattaneo, Tiefschwarz and more.
Vincenzo – Italo-German innovator Vincenzo boasts a rich musical history, stretching back to the thriving 90's house scene in Hamburg. Music from his new album 'The Vanishing Years' on Anjunadeep has been supported by Pete Tong, Dusky, Annie Mac and Mano Le Tough amongst others, and an impressive string of releases of revered underground labels likes Dessous and Watergate has kept him firmly at the cutting edge for nearly two decades.