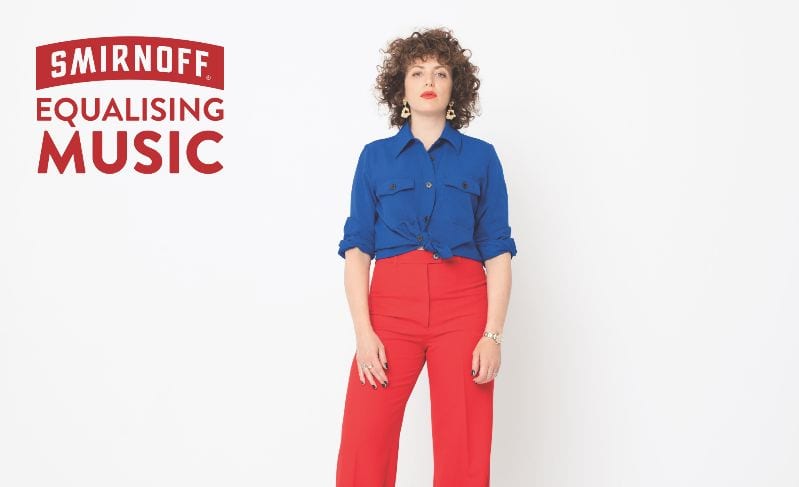 Annie Mac challenges the music industry to address gender equality in 2019
Annie Mac announces the launch of the Equalising Music Pledge, a movement to shift the diversity dial and push for greater gender balance in the music industry.
The Equalising Music Pledge is the latest move by Smirnoff Equalising Music, a three-year, global, multi-million pound campaign to accelerate gender parity in the music industry. Endorsed by the PRS Foundation's influential Keychange initiative and supported by Coda, Equalising Music is calling on everyone in the music industry to take direct action on gender equality, with Annie Mac challenging the industry at large to do one thing in 2019 to make music a more equal place through the Equalising Music Pledge.
Commenting on the launch, Annie Mac said:
"I am delighted to be teaming up with Smirnoff Equalising Music and PRS Foundation's Keychange to head up the Equalising Music campaign. Together we have the tools and the reach to make a real impact here in the UK. The music industry is still embarrassingly lopsided when it comes to gender parity. We are all acutely aware of the enormous contribution women make to this business, and yet there's still so much work to be done to ensure they're embraced and championed, both in front of and behind the scenes. Contributing towards trying to change this is something I personally feel passionately about, and I'm genuinely excited to see the future impact women of all ages will have on the unchartered territories of this rapidly changing industry."
Since Smirnoff first launched Equalising Music in 2017, there has been a growing response to the vital need for inclusivity and representation for women both on stage and behind the scenes. The music industry is beginning to take action against long-embedded, industry-wide inequality and initiatives like PRS Foundation's Keychange have fuelled a growing awareness of the issues women face and driven affirmative action, empowering women to transform the future of the music industry and persuading more than 150 festivals to fulfil a 50/50 gender balance across their lineups.
Whilst progress across the industry is encouraging, lack of diversity is still an industry-wide problem. Only 17% of PRS for Music's registered songwriters are female, the gender pay gap at major music companies averaged at 30% and only 15% of labels are majority owned by women. With some way to go before women are afforded the same opportunities as their male counterparts and artists are no longer talked about in terms of their gender, this next phase of the Equalising Music initiative encourages everyone – from club and festival bookers to artists, industry leaders and music fans – to step up and do one thing to ensure a gender-balanced future.
Sam Salameh, Head of Smirnoff said:
"Smirnoff set up Equalising in Music in 2017 because the music industry had been sidelining female talent for too long. So far we've raised awareness of unconscious bias towards female artists with Spotify, redressed the gender imbalance at festivals including Wireless, Lost Village and Snowbombing and empowered the next generation of female talent through a series of DJ and mentorship workshops. And we're continuing to put our money where our mouth is. This year we're proud to be partnering with Annie Mac, one of the UK's leading music tastemakers and an artist widely known for championing gender-balance, on the Equalising Music Pledge. We all know the statistics so now it's time for action. Together – and proudly endorsed by PRS Foundation's Keychange initiative – we're asking everyone in the industry to step up and do one significant thing for gender equality in 2019."
Vanessa Reed, CEO of PRS Foundation and Founder of Keychange, said:
"We're excited to see Annie Mac working with Smirnoff to engage even more people from across the music industry in positive actions towards gender equality. Keychange has now united over 150 festivals from across the world in a pledge towards gender balance by 2022 and we're delighted that Annie's AMP festival is one of our signatories. Annie's new call for action, which encourages anyone working in the music industry to do one tangible thing for gender equality, will get more people in music thinking about the benefits of a more balanced workforce. This will help us to achieve the change we all want to see for the next generation of men and women considering a career in an industry that should be open to all."
Alex Hardee, Special Agent at Coda, commented:
"Coda is happy to align with Smirnoff Equalising Music as we feel strongly about working with the best talent (artists and staff) whatever the gender, so when the Equalising Music pledges kick in and we as an industry collective create more opportunity, that will be genuinely exciting."
#EqualisingMusic