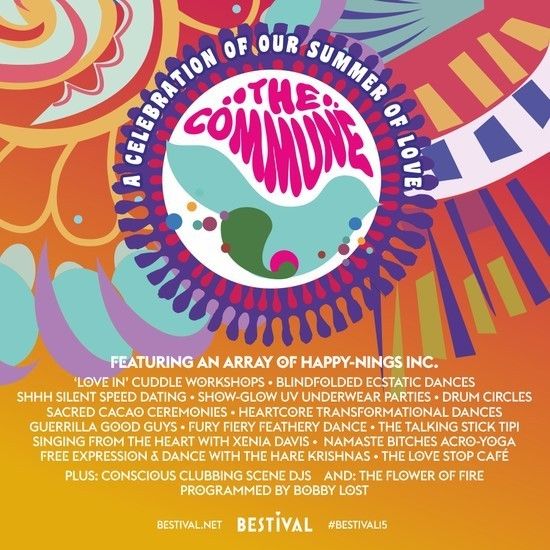 Another brand new area for Bestival 2015: The Commune
Celebrating our Summer of Love in the very finest style we have yet another brand new area, The Commune, coming to Bestival as a very special one-off this year. An ocular spectacular resonating with the spirit of Bestival, The Commune will not only be the bedrock of the soul of our Summer of Love, but will also create a jaw-dropping eyeful visible far and wide across the site, featuring our incredible Flower of Fire, a nine-petalled 15 and half metre pyro-installation radiating peace and love from the centre of the Magic Meadow all weekend long. Entwining brand new ideas with ancient philosophy, The Commune is the essence of our ideals and the hotbed of our Summer of Love, designed by Josie da Bank and programmed by long-time Bestival cohort, Lost & Found's chief facilitator of the unusual, Bobby Lost.
Commune Programmer Bobby Lost says: "The Commune is a place where you can just be you, whether that's dancing like no one is watching, hugging, connecting with others and becoming nourished, or sharing deep experiences with strangers, getting assigned missions to spread more love around the festival like to hug 100 strangers, joining a drum circle, or just sitting and being. I'd like the commune to be a home for 'Hedonism with Heart', a joyful celebration of life, embodiment and freedom of expression. I wanted to provide a space to come and move outside your comfort zone without getting off your chops".

Situated among a convoy of peace wagons and bespoke traveller vehicles, there will be an array of Happy-nings, from sober morning raves and late night UV underwear parties, to inspiring talks from real revolutionaries, capturing the genuine counter culture spirit of freedom and the expansion-of-possibility felt by the movement in the sixties, all with a liberal dose of Lost & Found sass.
'Happynings' will include, 'Love in' Cuddle Workshops, Laughter Yoga, Blindfolded Ecstatic Dances, Silent Speed Dating , Sacred Cacao Ceremonies, Drum Circles, Acro-Yoga, Singing from the Heart, 'Guerrilla Good Guys'- a workshop to spread love around the festival unseen, free expression and dance with the Hare Krishnas, Gratitude Workshops and the Love Stop Cafe.
At night The Commune will pulse with passionate beats from top conscious DJs from the conscious clubbing scene like WeAreOne, Morning Gloryville, Right Here Right Now and Battersea Conscious Club, spinning heartful house and dharma disco. Each night will see 'Glow Show' – a dare to bare UV underwear and body painting tribal party. Plus there will be the Talking Stick Tipi with game changing talks on consciousness, revolution, freedom, connection, expression, rebellion and politics.
Happy-nings collaborators include:
'Heartcore' from Ripe and Ready – A transformational dance experience inspired by the power of healing, & the ecstasy of the rave.
'Shhh Dating' – Silent Speed dating a way to meet, flirt and play without words.
'Namaste Bitches' from Nine Lives Yoga! Acro-yoga workshops.
'Sacred Cacao Ceremony' with London Faerie from Sacred Pleasures setting intention and working with the medicine of Cacao.
'Fury Fiery Feathery Dance' – Tribal Ecstatic Dance with Living Ecstatic.
'Singing from the Heart' with Xenia Davis – Lead singing workshop open to all voices soul inspiring, heart-warming and empowering, creating a sense of euphoria and connection for everyone involved.
Hare Krishnas – The most joyful bunch of religious people on the planet, they will be raising the vibration and spreading the joy of Krishna Consciousness with dance and music and some chanting too.
SHOW, GLOW-UV underwear party. No dresses, no trousers no fear! An underwear party where you become the art at night hosted by Stefan Gupthauser and Judi and the Doddlecats, who will be body doodling under blacklight.
The Love Stop Café – Bringing humans together for some facilitated mobile love spreading.

BESTIVAL TICKET LINKS & INFORMATION:
www.ticketline.co.uk/bestival-tickets / 0844 888 4410
Adult Ticket £195.00
Student Ticket £185.00
Teen (13-17) Ticket £130.00
Child (12 & under) Ticket Free (BUT you MUST obtain a ticket)
Campervan Ticket £92.50
Adult Wild Copse Ticket £325.00
Teen Wild Copse Ticket £165.00
Caravan £105.00 Car Park £15.00
All Tickets: – will incur a booking fee. – incur a £1 donation to the Isle Of Wight Youth Trust*.
There are no Day Tickets.
Lucky Cat Hospitality Packages are also available.
THE WEEKLY PAYMENT PLAN
We're pleased to announce that we are offering a 5 week payment plan which means that an adult ticket can now be bought with a small initial £25 deposit (plus booking fees and p&p) followed by 4 weekly payments of around £38.
Only available online via: www.ticketline.co.uk/bestival-tickets
Once you have signed up to the payment plan, Ticketline will automatically debit your card on a weekly basis. They only accept Visa (credit or debit) or Mastercard for the payment plan.
NB: Booking fees will be charged with your initial transaction.
THE ISLE OF WIGHT YOUTH TRUST CHARITY DONATION
*This year we are adding on a £1 charity donation onto all Bestival tickets. The money raised will go directly to the Isle Of Wight Youth Trust (Reg Charity no. 1087163) to help fund their fantastic work offering counselling and support to young people aged 25 and under on the Isle of Wight. The Bestival Foundation is also a proud supporter of the Youth Trust.