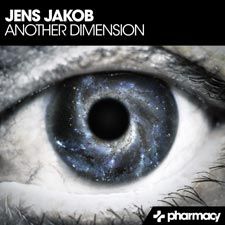 Jens Jakob - Another Dimension
Pharmacy favorite Jens Jakob unleashes an album of epic proportions. Another Dimension is an artist album in every sense of the word. Twenty-one phenomenal original tracks ranging from tech trance to breaks to psy trance and everything in between. Every track is unique and could have easily been a single on it's own. Jens Jakob is legendary for his uncanny knack for crafting melodic hooks using uncommon sounds. We asked Jens how he came up with the concept of this album and the wide range of styles that he effortlessly blended to create his masterpiece.
"I grew up in the 90's listening to various styles of electronic music. By the time I was a teenager I was already producing music. I have produced a lot of different genres since, but over time I fell in love with the whole idea of mixing tech trance and psy trance. I have also been influenced by a lot of old techno, trance, breaks, acid and psy tracks, from back in the early 90's, so I wanted to make a mix of something new and old. The main reason I wanted to release this album is that I have never been so happy with where I am musically as I am today. I wanted to show my best ideas I have at this moment in time and pushed myself to the limit with this album."
Jens has done just that beginning with a full throttle pumping psy trance track titled Paranoia followed by Sphere which continues the psy intro to the album. Track three brings us to the title track of the album, Another Dimension. This track is the pinnacle of Jens Jakob's sound, intelligent trance with a breakdown that lifts your soul to the heavens. The album goes deeper on Supernova, a deep dark psy track followed by Underground Industry, wicked acid trance with a funky groove. The acid trance continues on Black Hole.
Jens takes us on a trip thru time with the first of three breaks tracks on the album, Satellite. The Ocean is bumping breakbeat trance and Outerspace is a stand out track with it's quirky springy sounds riding high on a mesmerizing breakbeat groove.
Jens includes three of his biggest tracks form previous singles in case you missed them the first time around, Think About, Dark Energy and Humanism, a powerful acid techno track inspired by psy trance. It was also his first release for Pharmacy. The one that set the Jens Jakob machine in motion.
There are plenty of tech trance tracks for those that like pure energy. Mulle has a twisted psy tech vibe, Spectrum is funky tech trance, Illusion is hypnotic yet playful tech trance and Blew it Up is more of that funky trance but with a brilliant cinematic breakdown. Which leads us to Rogue Planet which showcases Jens Jakob's talent of producing a tech-trance track that is refreshingly new and engaging with a breakdown that easily stands out in any set.
Innocence, a collaboration with LowProfile, the Portuguese Techno, Trance & Psy Trance duo formed by Ruben Pinho & Tiago Ferreira is pumping acid psy trance with one purpose – wreaking havoc on the dance floor.
Gateway is a banger with an intoxicating, spellbinding melody.
No album by Jens Jens Jakob would be complete without the Shadow mix of Titan, a collaboration by Jens Jakob & Diego Morrill which is Jens's biggest track to date and has been destroying dance floors around the globe.
Jens closes out the album with The Bermuda Triangle, a peak time psy trance monster with a fierce growling acid line designed to cut thru the air like a razor.
This is an outstanding work of art in which Jens Jakob takes the listener on a proper trance journey over the course of twenty-one tracks. Another Dimension truly is an album from another dimension.
Release Dates:
Out now exclusively on Beatport – https://pro.beatport.com/release/another-dimension/1737515
Available worldwide on April 25th.