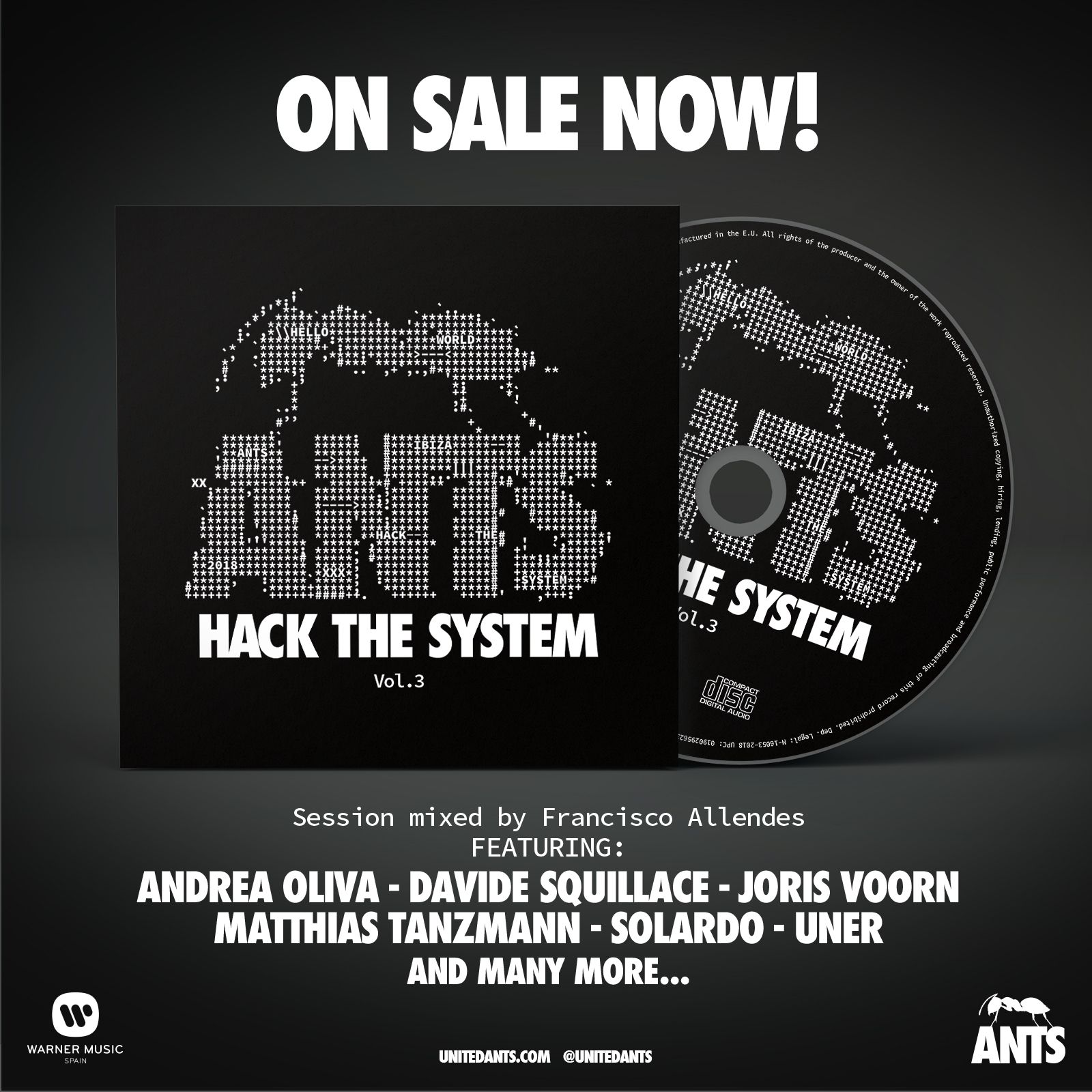 Various Artists - ANTS Hack The System Vol.3
After the huge success of their previous compilations, ANTS have returned with their brand new mix, courtesy of dynamic producer and brand resident Francisco Allendes. Partnering up with Warner Music Spain for another year, the mix sees a host of colony members come together to mark the occasion, with the likes of Butch, Andrea Oliva, Secondcity, and Groove Armada all part of the compilation's eclectic tracklist, and is available now via all usual outlets, on streaming services and for digital download.
Comprised of 16 tracks, the mix gives listeners a taste of of Ibiza's very best underground party, which returns to the island this year armed with a mysterious 'Hack The System' theme. Featuring records from popular Mancunian duo Solardo and ANTS regular, Maya Jane Coles, the mix also features huge floorshakers from Andhim and Paco Osuna.
The ANTS concept has enjoyed a meteoric growth in stature since the inception of the brand in 2012, with various parties taking place all over the world, focusing on rugged minimalistic beats from some of the biggest names in the tech-house scene. Taking the ANTS brand worldwide, ANTS have recently staged parties in Fabrik Madrid, New York, and Electric Brixton in London, where top artists were all part of a stellar NYE billing.
ANTS will run all summer in Ibiza this year, with an eagerly anticipated closing party taking place on 29th September.
TRACKLIST
1. Tapesh & Iam Bam – Lost (Original Mix)
2. Solardo – Fall Down (MK Remix)
3. Secondcity – Kwelanga (Original Mix)
4. Andrea Oliva – We Trust (Original Mix)
5. Groove Armada – Keep Rock In (Original Mix)
6. Ninetoes – Big Boy (Davide Squillace Remix)
7. Matthias Tanzmann – Mahoney Baloney (Original Mix)
8. Francisco Allendes – Montana (Extended Mix)
9. Paco Osuna – Slow To Funk (Original Mix)
10. DJ Sneak feat. Mikey V – Hecha Pa' Ca (Original Mix)
11. Maya Jane Coles – Won't Let You Down (Catz 'N Dogz Remix)
12. Andhim – Huso (Original Mix)
13. Butch – Countach (Kölsch Remix)
14. Woods – Desert Storms (Joris Voorn Remix)
15. OC & Verde, Eli & Fur – Sweet Perfection (Sharam's Crazi Dub)
16. Marc Allow – Golden Tiger (UNER Remix)