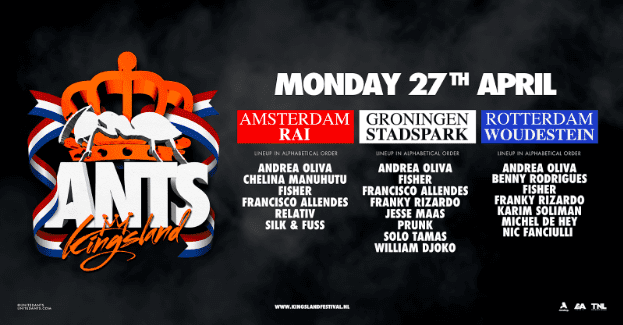 ANTS to Host 3 Parties in 3 Different Dutch Cities For King's Day
ANTS will return to the Netherlands next month for their biggest ever King's Day party, hosting showcases in three different cities on Monday 27th April. 
As Dutch party people take to the streets and canals for another year of madness, the colony will bring the finest beats to a sea of orange, enlisting a star-studded roster of international DJs to perform across Amsterdam, Groningen and Rotterdam, seeing Colony regular and internationally acclaimed swiss DJ Andrea Oliva grace the decks at all three events alongside  Grammy-nominated personality FISHER.
In the capital, where ANTS will take over the RAI Convention Centre, Dutch-born tech house female DJ Chelina Manuhutu is set to get the party started alongside Chilean DJ and Producer Francisco Allendes, Utrecht duo Relativ and tech house pair Silk & Fuss complete the mammoth lineup.
In Groningen will see local house favourites join the billing from key tastemaker William Djoko and FLOW label head  Franky Rizardo, alongside energetic rising stars Jesse Maas and Solo Tamas. The port city of Rotterdam, see's Ibiza favourite Nic Fanciulli behind the decks, as-well as Holland's finest Benny Rodrigues and warm- up duties with Karim Soliman and Michel de Hey.
With the ANTS family invading various cities across the globe in recent months, the return to the Netherlands will mark three of the most hotly anticipated parties on the King's Day agenda. 
The Colony is set to precede another run of weekly parties at the Ushuaïa Ibiza Beach Hotel this coming summer with their brand new 1960's sci-fi b movie inspired 'INVASION' concept for it's eighth season between 16th May and 3rd October.The ANTS concept has proved to be one of the most reliable party starters on the planet, always delivering impeccable production and the finest talent on the bill.  Don't sleep on tickets for what promises to be yet another epic ANTS King's Day takeover!
Rai, Amsterdam
Andrea Oliva // Chelina Manuhutu // FISHER // 
Francisco Allendes // Relativ // Silk & Fuss
Stadspark, Groningen
Andrea Oliva // FISHER // Francisco Allendes // Franky Rizardo // 
Jesse Maas // Prunk // Solo Tamas // William Djoko
Ahoy, Rotterdam
Andrea Oliva // Benny Rodrigues // FISHER // 
Franky Rizardo // Karim Soliman // Michel de Hey // Nic Fanciulli
Web: www.unitedants.com
Facebook: www.facebook.com/UnitedANTS
Twitter: www.twitter.com/UnitedANTS
Soundcloud: https://soundcloud.com/united-ants
YouTube: youtube.com/unitedants