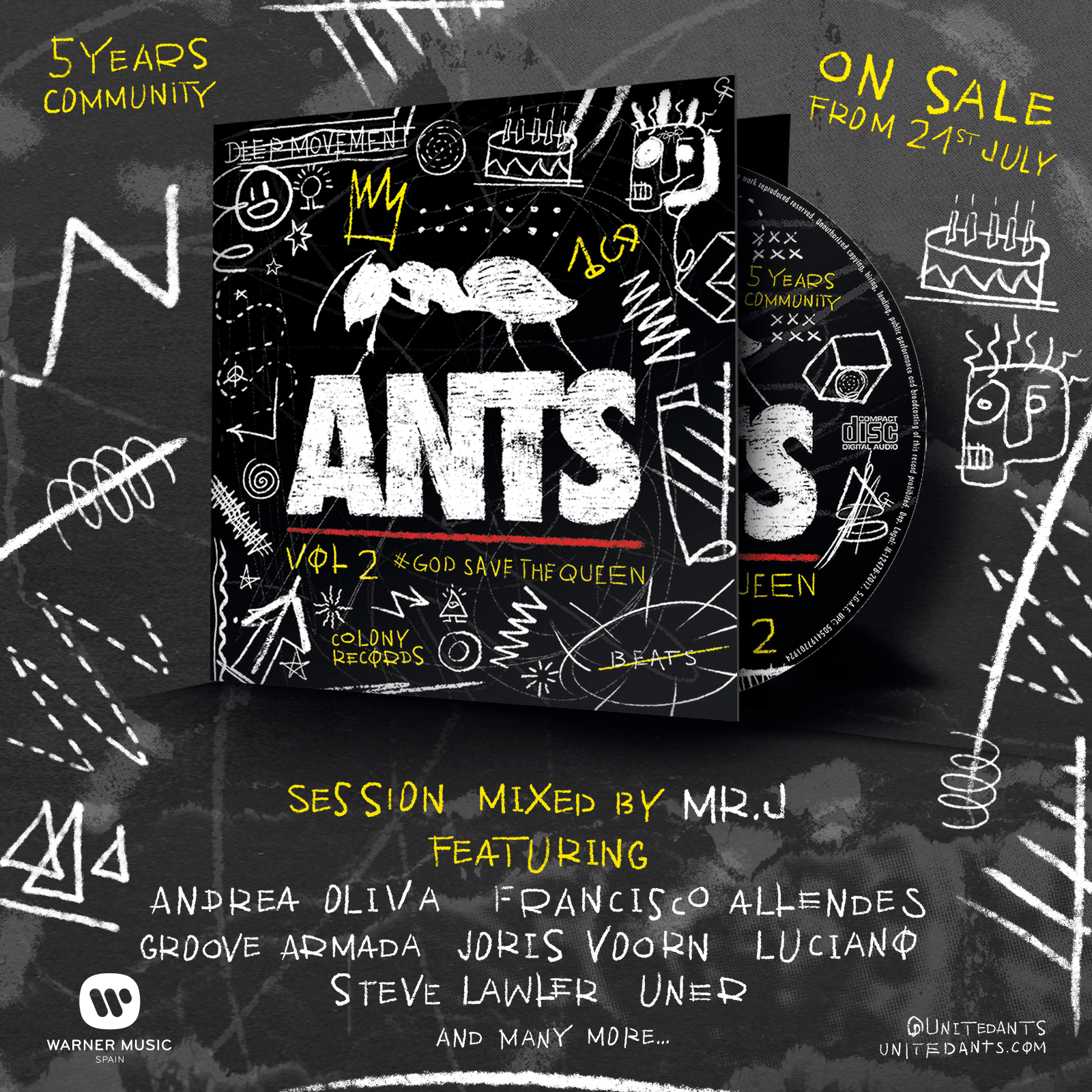 Various Artists - ANTS Vol.2: God Save The Queen
After the huge success of their debut 'Music Is The ANTSwer' compilation, ANTS continue their partnership with Warner Music Spain as they salute 'God Save The Queen' for their 2017 follow-up. As part of their fifth anniversary celebrations, the latest compilation is out now via iTunes and Spotify and sees a host of colony residents come together to mark the occasion.
Comprised of 14 tracks that are mixed together by MR.J, the alluring ANTS soundtrack gives a perfect insight into the colony's iconic residency. ANTS regulars Andrea Oliva, Francisco Allendes and Tapeshare all present, with house and techno pioneers Steve Lawler, Secondcity, DJ Sneak and Groove Armada also on board. For a taste of Ibiza's very best underground party, the 'God Save The Queen' compilation is a must-buy.
The ANTS residency runs every Saturday at Ushuaia until 30th September.
via iTunes: http://smarturl.it/ANTSiTunes
via Spotify: http://bit.ly/2v0ts0y
For more info on ANTS, please visit: www.unitedants.com
Tracklist:
Luciano – Rise Of Angel (Andrea Oliva Remix)
Joris Voorn – Ringo
Frankey & Sandrino – Acamar
Uner – Urantia (Petar Dundov Remix)
Ralph Lawson – Lost In The Storm (Barem Remix)
Tapesh & Mr. J Feat. Nacho Lezcano – Camino
Steve Lawler – House Record
Kim Ann Foxman – U & Me Electricity
Andrea Oliva – Vermona
Francisco Allendes – House Train
Catz 'N' Dogz – It's Happening
Riva Starr & DJ Sneak – In Da House Tonight (Detlef Remix)
Secondcity and Manu Gonzalez – Funk'd
Groove Armada – House That (Reh-House)