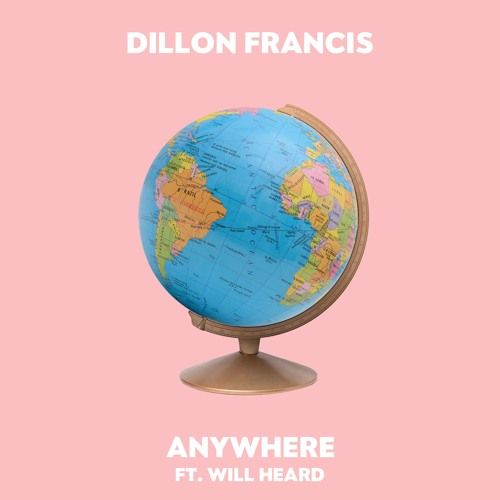 Dillon Francis - Anywhere (feat. Will Heard)
Artist/DJ/producer Dillon Francis has unveiled his brand new single "Anywhere" featuring British singer/songwriter Will Heard. Check out the lyric video for the song. "Anywhere," an undeniably catchy slice of pop mastery, is available to stream and to purchase via the above platforms.
Dillon recently appeared as a guest on a hilarious new episode of MTV's comedy show Ridiculousness hosted by Rob Dyrdek.
ABOUT DILLON FRANCIS:
Initially recognised for helping to bring the tribal dance movement Moombahton to the forefront, Dillon Francis has signaled new heights climbed and conquered with his recent singles "Candy" ft. Snappy Jit, "Coming Over" with Kygo ft. James Hersey (#1 on Billboard Dance Club Songs), and his #1 star-studded EP This Mixtape is Fire (Billboard Top Dance/Electronic Albums) last year. His Columbia Records/Mad Decent debut, Money Sucks, Friends Rule was hailed as one of Rolling Stone's Top Electronic Albums of 2014 and featured his massive Platinum hit "Get Low" with DJ Snake. Known as one of the most engaging festival acts, he's performed to record crowds in the US, UK, Brazil, Argentina, Chile, France, Australia, and more. Recognized as one of Mad Decent's most prolific artists, Dillon has earned himself the reputation as inventive visual artist and playful observer of pop culture, participating in the movie 'Scouts Guide To The Zombie Apocalypse' and even creating his own YouTube mock-reality series 'DJ World.' Known for assembling phenomenal collaborations and partnerships throughout his career, Dillon has always been about charting the unconventional course to success.
ABOUT WILL HEARD:
At 25 years of age, South West London born Will Heard is a young & exciting talent, with an undeniable voice mature beyond his years. The British singer / songwriter brings a blend of Jazz, Hip-Hop & Soul, with an added element of Funk. In 2013, Will Heard scored his first taste of success after co-writing & featuring on the Klangkarussell hit single "Sonnentanz (Sun Don't Shine)" in 2013 which entered the UK singles chart at number 3, as the highest new entry. This later lead Will to work on records with the likes of Tourist, Elli Ingram, Jimmy Napes, Disclosure, and Rudimental, who he spent a year touring the world with after co-writing & featuring across 5 songs on their #1 second album "We The Generation." Now with the focus on his solo career, Will is putting the finishing touches on his forthcoming EP, to be released later this year, and is working with the likes of Eg White (Adele, Sam Smith, Florence & The Machine), Al Shux (Jay-Z, Alicia Keys, Plan B), Billy Mann (P!nk, John Legend, Celine Dion), Stuart Zender (Jamiroquai, Duffy, Zak Abel).