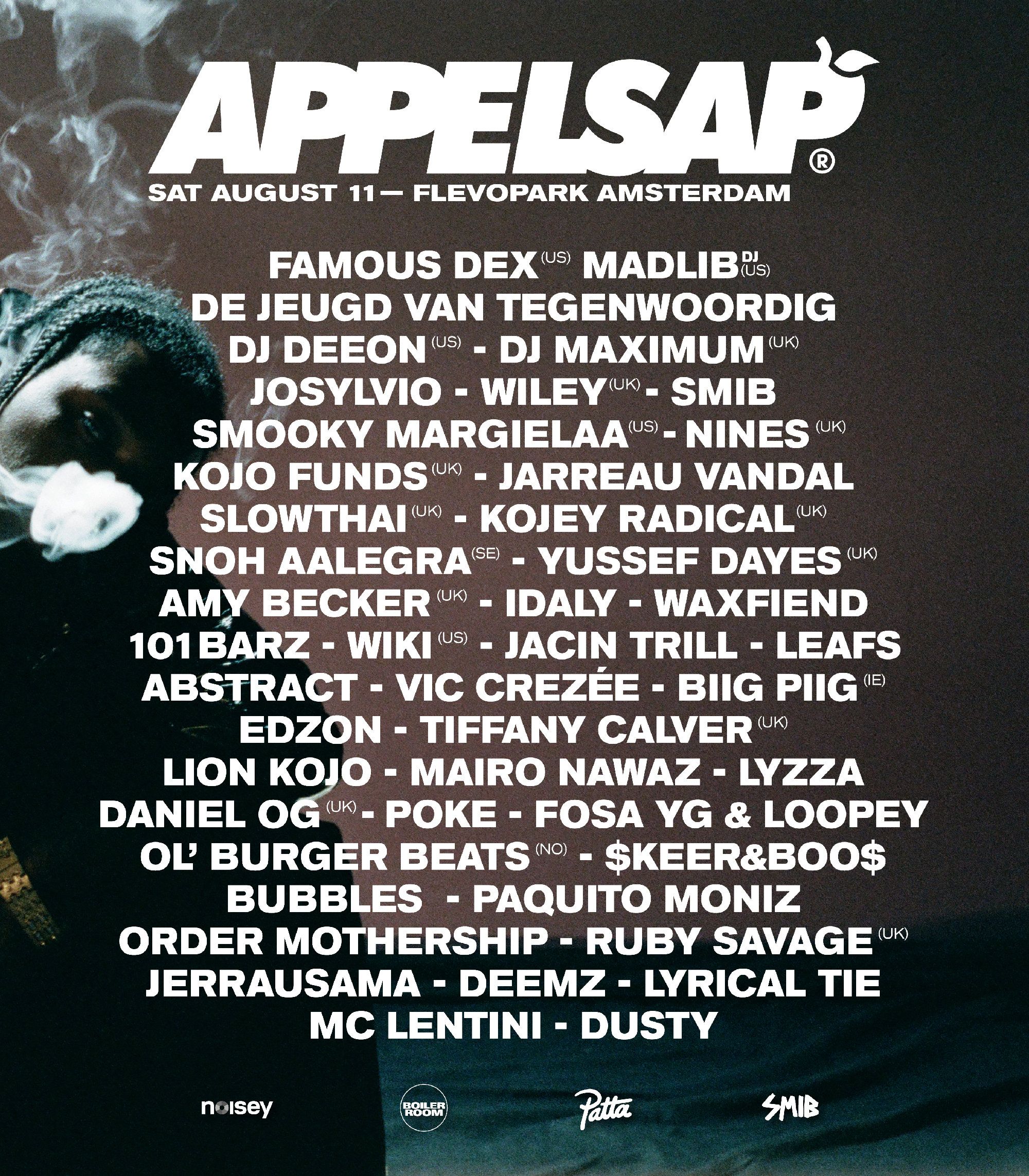 Appelsap drop full lineup…
A renewed Appelsap remains of and for the culture.
After 18 years as Amsterdam's leading hip-hop festival, Appelsap remains of and for the culture; pushing harder than ever for creative street culture. Discovery, development and presentation of new talent is always prioritised, highlighting new creatives from the city and beyond. Appelsap are proud to drop the full Flevopark line-up for August 11, as well as Patta, SMIB and Parra, as well as it's 2018 campaign, celebrating it's 18 years / 'coming of age,' where a new gen of artists pays tribute to hip-hop heroes throughout the years.
Fresh names for the line up are are Dutch rapper Josylvio, whose streetwise, hardcore approach has earned him a Number One album in the Dutch charts, plus young gun rapper Slowthai, a UK name whose gritty bars and captivating live show has won him love the world over. Infectious, ghetto house is set to Appelsap, with Dance Mania Master, DJ Deeon, joining for the the first time. There's Genre-defying global sounds from Brownswood player, Ruby Savage, while Patta Soundsystem's Mairo Nawaz is set to bring heat to Flevopark. Plus, don't miss 101Barz, Ol' Burger Beats, Deemz, $KEER&BOO$, LYZZA and Wiki. Also new on the bill are WaxFiend, Daniel OG, MC Lyrical Tie, MC Lentini, Jerrausama and Poke, who'll join Famous Dex, Smooky MarGielaa, SMIB, Wiley, Madlib, De Jeugd Van Tegenwoordig, Jacin Trill and Leafs already announced.
2018's outing sees 3 stages come together, plus the SMIB Station. The stages are collaborations with Noisey, Boiler Room and Amsterdam's Patta Soundsystem. Appelsap family, creative collective SMIB will host a vibe area with performers, DJs and artists. A special capsule collection from its clothing label Sumibu will be launched, and to further cement Appelsap's ties to the city of Amsterdam, a large sculpture by the artist Parra will be unveiled during the festival.
A key player in Dutch hip-hop culture, Appelsap has paved the way for the movement in the city, being the first in the Netherlands to book leading international acts like Kendrick Lamar, Travi$ Scott, Skepta and Stormzy, plus showcasing now huge Dutch acts like Broederliefde, Lil Kleine, Sevn Alias, De Jeugd Van Tegenwoordig and The Opposites in the early days of their careers. It's what earned Appelsap the prestigious Amsterdam Prize for the Arts last year.
In a changing festival landscape, discovering the newest acts remains the focal point of Appelsap, and that is why all stages have become equal to each other. With that perspective, the festival will focus even more on the very best from the (inter)national underground of hip-hop and electronic music. Appelsap wants to play an intermediary role between new talent and underground classics, styles and cultures, and will also focus on other aspects of street culture, like street fashion and art.
Complete line-up
– NEW NAMES – JOSYLVIO, Slowthai, DJ Deeon, DJ Maximum, 101Barz Presents, Ol' Burger Beats, Deemz, Mairo Nawaz, $keer&Boo$, Yussef Dayes, Wiki, WaxFiend, Daniel OG, Miracle Tie, MC Lentini, Ruby Savage, Jerrausama, Poke
Famous Dex, Smooky MarGielaa, Wiley, Madlib, De Jeugd Van Tegenwoordig, SMIB, Jarreau Vandal, Kojo Funds, Biig Piig, Nines, Jacin Trill, Abstract, Snoh Aalegra, Idaly, Leafs, Tiffany Calver, Kojey Radical, Vic Crezée, Poke, Amy Becker, Lion Kojo, Paquito Moniz, Fosa YG & Loopey, DJ Edzon, Order Mothership.