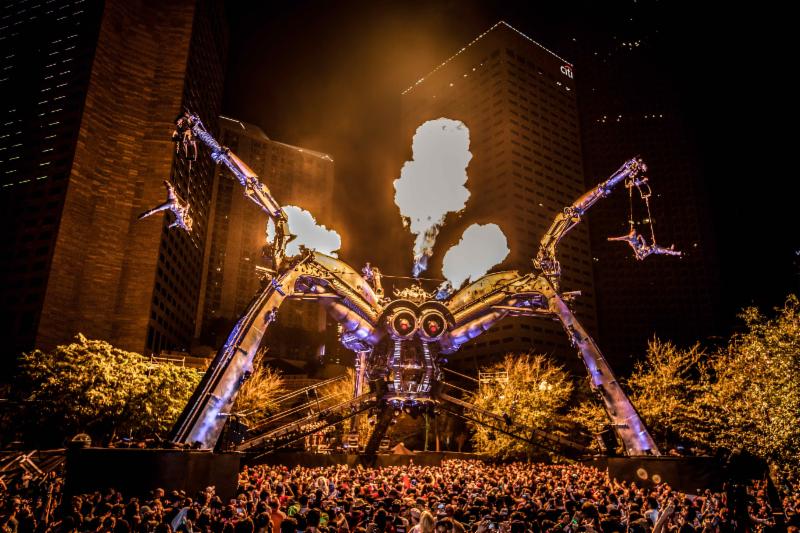 Arcadia Announce 10th Anniversary Show In London
Festival phenomenon Arcadia have announced their biggest stand-alone event yet – taking place inLondon in 2018 to celebrate their 10th anniversary.
The two-day event – being held on the first bank holiday weekend in May on Saturday 5th and Sunday 6th – will see the iconic 50-tonne, fire-breathing spider land in the heart of London, as the spellbinding Metamorphosis show engulfs crowds in immersive new worlds and dance music heavyweights perform from the belly of the beast.
Having toured the Spider on four continents, Arcadia are back in spectacular style.
Teaming up with London event specialists LWE, Arcadia's first ever London show is primed to set the capital ablaze with breathtaking drama, vivid multi-sensory moments and their signature fusion of circus, sculpture, engineering, art, dance music and 360 degree animatronics.
Londoners will have the chance to step inside Arcadia's fully immersive landscape, where 50-foot fireballs ignite with a thunderous shockwave, Tesla performers shoot two million volts of lightning from their bodies, huge mechanical limbs spray jets of C02, and a ground-breaking light show brings the arena to life.
Arcadia founders Pip Rush and Bert Cole said: "We can't wait to bring Arcadia into the capital for the first time. Having toured the globe, we're really excited to get back onto home soil, and celebrate the best of the past decade."
Will Harold, Director of LWE, added: "It's a real honour to be working with the award-winning Arcadia team and welcoming them to London for the very first time. With Arcadia's 10th anniversary falling on Glastonbury's fallow year, it's a momentous occasion and a rare chance to create an incredible event together. All the LWE team are hugely excited to be part of this one off event."
Built from repurposed military hardware, the iconic Spider was forged in an ethos of transformation, where materials once used for destructive ends were recast into spectacular arenas that unite tens of thousands of people from all walks of life.
Further details about the May show are coming thick and fast with musical headliners to be announced later this month. The countdown has begun.
To pre-register for the event, please visit: https://arcadiaspectacular.lpages.co/uk-event-2018

LINKS & FURTHER INFO
www.arcadiaspectacular.com

SIGN-UP LINK FOR TICKETS:
https://arcadiaspectacular.lpages.co/uk-event-2018

SOCIALS:
www.facebook.com/Arcadia
www.twitter.com/A_rcadia
www.instagram.com/arcadiaspectacular