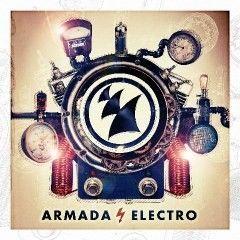 Armada Electro
How do you know you're listening to Armada Electro? Because you're hearing the tunes that have been getting the job done worldwide at the biggest parties, the most outrageous festivals, the hottest nightclubs – the tracks that routinely rock the party for tens of thousands of people at a time. Even if you don't recognize some of these bone-crushing tunes by name, you'll certainly recognize the music from just about any recent party you could have gone to.
This compilation is all about the productions that feature heavy synths, attention to detail, and the ones that retain that massive bass energy needed to get the crowd hyped. For softer, relaxing, chilled-out tunes, head anywhere but here. Every track on this album is a pure shot of adrenaline straight to the bloodstream, and each is crafted with the skill and precision you need to get your heart rate to 128 BPM and beyond.
Featuring the hit singles 'Black Smoke' from Dyro, 'Countdown' from Hardwell, and originals from Sick Individuals, Pegboard Nerds, and multi-talent Savant, Armada Electro has everything you need for a dance party of one or a global gathering. Plug in, fasten your seatbelt, and let the bass do the talking.
Release date: May 16th 2014