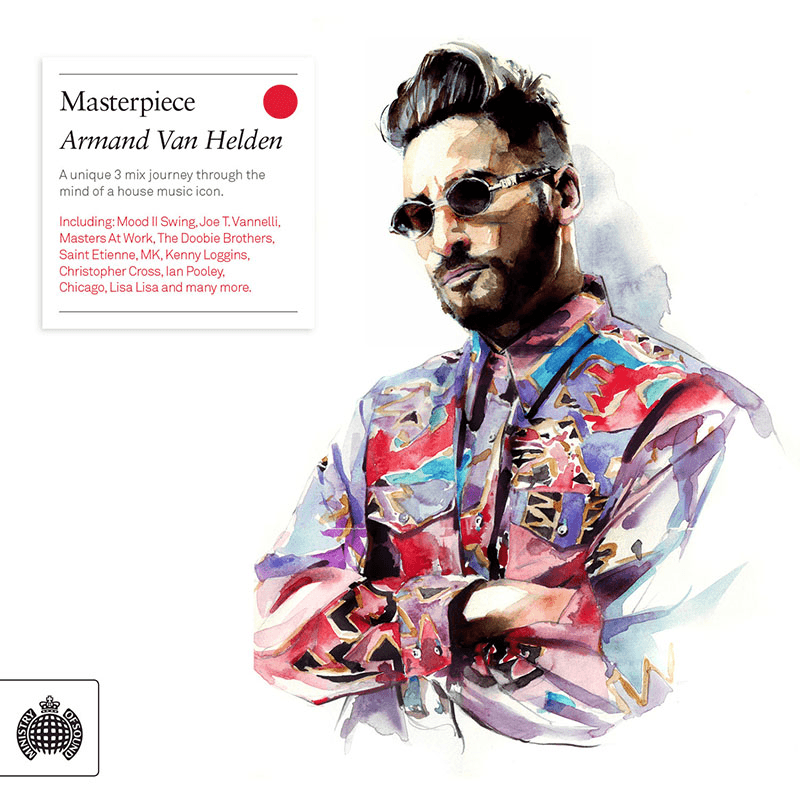 Armand Van Helden – Masterpiece
"Who knew this house would be everyone's home…?" is, fittingly, both the start and end quote to this album.
Masterpiece is undoubtedly the most prestigious DJ led series on UK label, Ministry of Sound. Past editions have been fronted by scene pioneers and widely considered music legends including Goldie, David Rodigan, Carl Craig, Gilles Peterson and Andrew Weatherall to name a few, showcasing the most influential DJs of our time. The series allows it's curator to build a selection of tracks that represents their inspirations both before and during their musical careers. In effect, creating their masterpiece.
As a DJ, producer and musician, Armand Van Helden's reputation precedes him, his music career dwarfs most. Coming at a time when house music globally has never been more popular, firmly positioned at the front of music charts the world over, now, has never been a better time to present a house music icon in a way he wishes to be presented. Featuring not a single Armand record, the album illustrates what makes him the artist and person he is today.
From classic house to speed garage via hip hop, funk, (blue eyed) soul and back, Armand has spent his career dropping bomb after bomb of nuclear-powered New York goodness. And while he relishes the life he lives – consistently hitting the mark but away from the celebrity superstar life experienced by other DJ/producer superstars, he remains one of the most respected producers in the scene. Whether it's his Tori Amos 'Professional Widow' remix hitting number 1 in the UK in '97 or 'Bonkers' with Dizzee Rascal some 12 years later he has delivered some of the most influential house tracks of all time.
Broken down into 3 mixes titled The Loft (Boston), Yacht Rock Don't Stop and Freestyle Forever, Armand takes us on a journey of epic proportions spanning key tracks from where he learnt his trade including Mood II Swing, Masters At Work and Earth People, as we'll as his early musical influences featuring Christopher Cross, Kenny Loggins and Toto then progressing through to a scene that means more to him than most, with highlights coming from Giggles, Stevie B, Debbie Deb and Lisa Lisa & Cult Jam.
As engaging as it is diverse and every bit as creative as the man himself. A unique 3CD journey through the mind of a house music icon: Masterpiece – Armand Van Helden
"Who knew this house would be everyone's home…?"