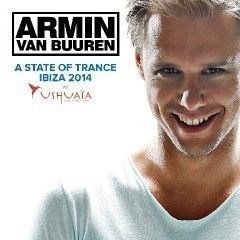 Armin van Buuren's 7 Hour Ibiza Set to be Broadcast on Global Radio
On August 7th, 2014, Armin van Buuren took the decks for a special 7-hour solo set during his summer residency at the Ushuaïa Beach Hotel in Ibiza. The one-man effort was one of the defining moments of the season. This set was recorded live in its entirety, and as a special event, the complete show will now be broadcast on FM, satellite, and local radio around the world. Fans who weren't able to attend the residency will now have the chance to experience the magic of A State of Trance in Ibiza for themselves.
Spanning 97 tracks, the lengthy set is a slow build from downtempo, more chilled-out tunes all the way up to hard-hitting main stage anthems.
Armin: "Starting really slow in the BPM range and building up to a massive climax at the end ‹I love playing these long sets. I can really take the crowd on a musical journey and show what I love about trance and progressive."
The list of radio stations and broadcast times can be found below:
538 Netherlands Friday 05-09-2014 – 23:00 – 04:00 (5 hour broadcast)
Digitally Imported USA Sunday 07-09-2014 – 14:00
NRJ Russia Saturday 13-09-2014 – 23:00
Sonic FM Argentina Saturday 06-09-2014 – 12:00
Beat 100.9 Mexico Tuesday 09-09-2014 – 11:00
Unika FM Spain Monday08-09-2014 – 00:00
La Marka Nicaragua Friday 12-09-2014 – 18:00
Top Radio Belgium Monday 08-09-2014 – 22:00
Enter Radio Croatia Sunday 07-09-2014 – 17:00
Cool FM El Salvador Saturday 13-09-2014 – 20:00
Eska Poland Date and time TBC
UK Away FM Canary Islands Thursday 13-09-2014 – 20:00
Kiss FM Ukraine Sunday 07-09-2014 – 11:00
Hi FM Oman Saturday 13-09-2014 – 23:00
Fun Radio Sweden Thursday 11-09-2014 – 19:00
Radio 1 Norway Saturday 13-09-2014 – 20:00
Radio Saturn Guatemala Date and time TBC
Sirius XM USA Sunday 14-09-2014 – 15:00
On Tuesday, September 9th, Armin will also be releasing the official compilation from his Ushuaïa residency, 'A State of Trance at Ushuaïa Ibiza 2014', including the brand new Armin van Buuren single 'Hystereo' (released September 5th, immediately reaching the #1 position in the Dutch Singles Chart). You can pre-order the album here: http://bit.ly/HBM_iT