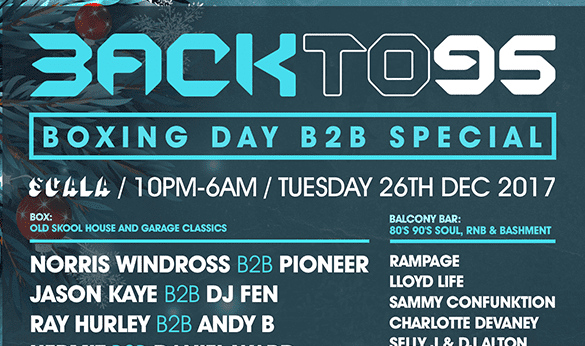 Backto95 announce full Boxing Day lineup!
This Christmas we present our 15th annual Backto95 Boxing Day Special at London's iconic music venue "Scala" in Kings Cross.
Once again we have spared no expense in bringing you yet another superb line-up to take you back to the original Oldskool vibe and party atmosphere.
In the main room for the first time ever 4 turntables, 4 CDJ's, 2 mixers and your favourite Oldskool DJ's and Mc's going back2back.
Headlining will be the notorious Norris The Boss Windross & DJ Pioneer! Scala's main room has also been fiited with a brand new sound system to enhance your listening pleasure.
The Glass Bar is headlined by Top Buzz playing the best in Old Skool Jungle classics. The Balcony Bar is headlined by Rampage who will be playing the best in 90's Soul, RnB and Bashment. The Foyer Bar will be hosted by the one and only Housefm.net with the best in Soulful and Deep House music! As per usual, this event will be sold out in advance so please get your tickets early to avoid disappointment!
We will once again be using our Boxing Day event to raise money. This year, our chosen charity will be Great OrmondStreet Hospital.
Tickets: http://bit.ly/BTOBOXINGTICKETS
Facebook event: http://bit.ly/BTO95BOXINGDAYB2B
Box: Old Skool House And Garage Classics
Norris Windross B2B Pioneer
Jason Kaye B2B Dj Fen
Ray Hurley B2B Andy B
Hermit B2B Daniel Ward
Listener B2B Jason H
Jazzy D B2B DJ Touch
Jerry Rankin B2B Superior
Host: Creed – Dt – Psg – Buzzhard – Blakey – Rankin
Balcony Bar: 80'S 90'S Soul, Rnb & Bashment
Firin Squad
Lloyd Life
Sammy Confunktion
Charlotte Devaney
Selly J & DJ Alton
Treets Selects
Host: Champs – Selly J
Glass Bar: Oldskool Jungle Classics
Topbuzz
Funky Flirt
Ashattack
Ezm
Shockin
Plus One More
Host: Mad P – Bellyman – Nu Flo
Foyer Bar : Soulful Deep House Hosted By Housefm.Net
Kev Chase
Azi Robinson
Nick Fernandez
Lady T
2 Four 7
Roney J
+ Live Percussionist