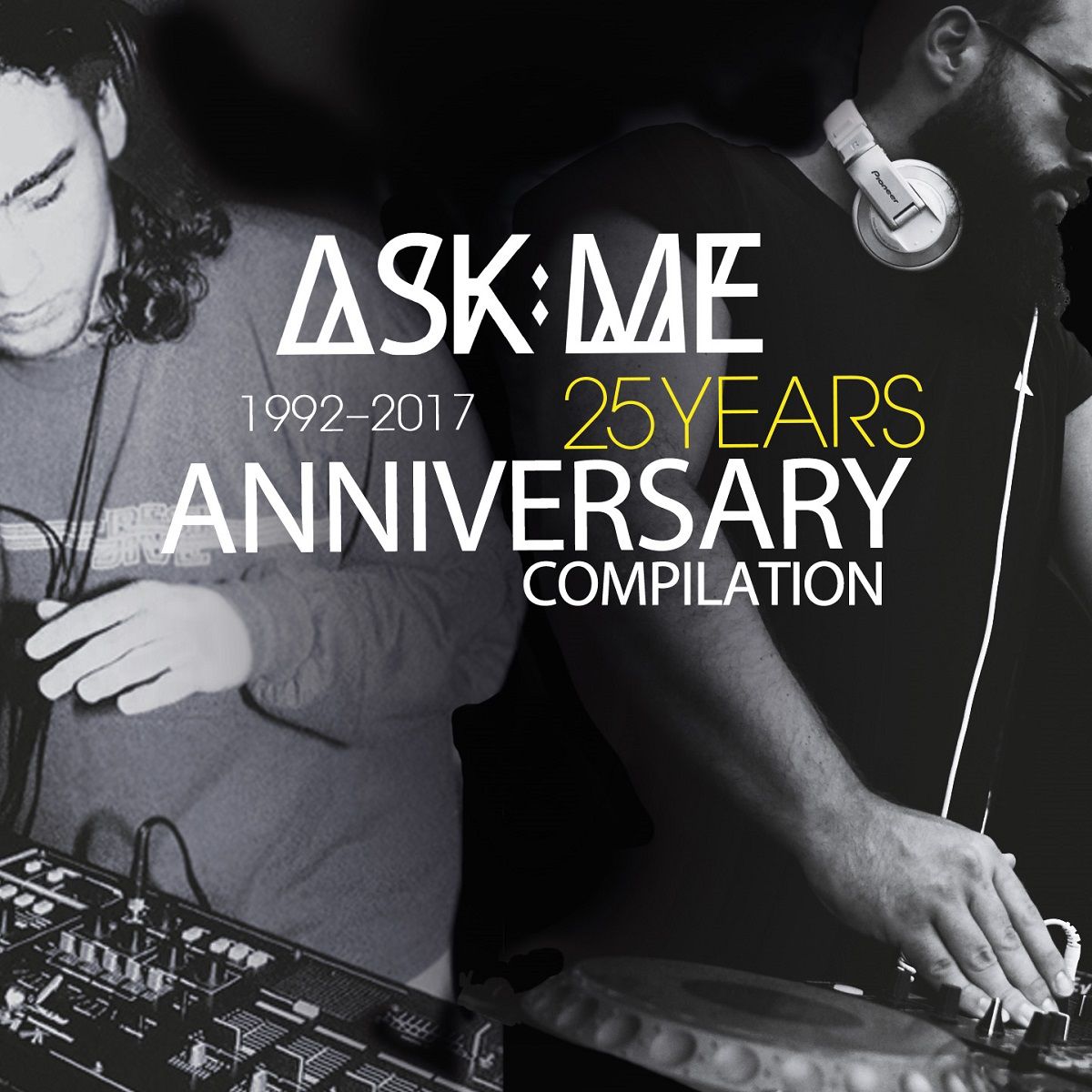 Various Artists - ASK:ME – 25 Years Anniversary
2017 is the year that marks Melih aka ASK:ME's 25th anniversary since he started his career as a DJ. He practiced after school in the club, where he worked behind the bar – yes seriously, he worked with only fifteen years behind the bar in a nightclub in his hometown. His first DJ set was in this same night club in Ingolstadt, where he spun his first records. It was one of those magical moments he will never forget, where his hobby became a big part of his life. Melih plays with his heart, out of pure passion, and this is still the case even after 25 years.
After his first gigs, it became clear that this was a strong beginning and a long story to be continued. When he was only seventeen years old, he organized his first event, with huge success and after four years spinning in his hood, he felt like the next step was moving to Munich. There, he started a few residencies at the legendary Fat Fugo and Mandarin Lounge, where he played next to the likes of Sven Vath, DJ Hell, Woody and many more. Later, he got booked for more shows at Ultraschall, Parkcafe, KW and other venues in Germany.
Then, he became part of the Partysan crew, where he hosted events like Rave On Snow, Thai Break, Rave On Cruise and the yearly Love Parade in Berlin, with the own trucks of Partysan, and at their other general events too. His biggest strike in Munich was to be a part of Pulverturm, where he was resident till the end, and shared DJ booth with the likes of Loco Dice, Chris Liebing, Richie Hawtin, Westbam and more. With Partysan, he also got a few international gigs and was invited to Spain at the Moog in Barcelona, Russia, Austria, Switzerland (Streetparade, Rohstofflager, Supermarket) and many more festivals and mythical clubs around the globe. His biggest show at a young, which he still remembers as it was yesterday, was the Millenium Beach Party at Boracay Beach in the Phillipines.
In 2007, he started producing tracks and did several collaborations with George Morel, Jean- Claude Ades, Jerome Isma-Ae, Joe T. Vannelli and others. He also did a few remixes and own releases on important labels such as Ministry Of Sound, Groove On, Frequenza, Swing, Opaque, Rise Up and more. He always stayed loyal to his heart and never left anyone steal his passion for music. He let himself play whenever he wanted and not when he had to, as his main business as an agent and manager allowed him to follow this direction. In 2014, it was time for some changes, to concentrate more on his DJ & producer career, and he invested since then more time on productions and shows. He changed his alter ego from MELIH ASK to ASK:ME and since then, he's producing and djing under his new alias.
To celebrate this anniversary, here's a huge compilation with 25 tracks, including some productions by Marek Hemmann, Monika Kruse, Steve Lawler, Hollen, Noir, Solee, Kollektiv Turmstrasse, Rodriguez Jr and many more!
25 YEARS to celebrate with 25 TRACKS and two continuous DJ Mixes!
http://classic.beatport.com/release/25th-anniversary-compilation/1951657
https://www.traxsource.com/title/759811/25th-anniversary-compilation
https://play.spotify.com/album/5tf2buBrBdcu8PpTaOSfwo
25th ANNIVERSARY TOUR 2017:
25.04: World Club Cruise, Mallorca, Spain
26.04: World Club Cruise, Barcelona, Spain
27.04: World Club Cruise, Ibiza, Spain
28.04: World Club Cruise, Mallorca, Spain
25.05: Tante Mia Tanzt Festival, Vechta, Germany
03.06: World Club Dome, Frankfurt, Germany
04.06: WCD Pool Sessions @ Diynamic Stage, Frankfurt, Germany 09.06: Bootshaus, Cologne, Germany
28.06: Unicorn Hill Festival, Schwabisch Gmund, Germany 29.07: Panama Festival, Bonn, Germany
22.09: World Club Dome, Inchecon, South Korea
+++ dates to follow soon!
More information about ASK:ME:
www.twitter.com/AskMe_77
www.facebook.com/askme77
www.instagram.com/ask_me77
www.mixcloud.com/ask-me-music
www.soundcloud.com/ask-me-music