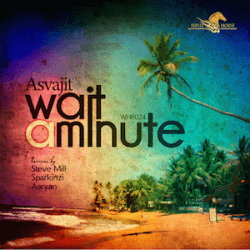 Asvajit – Wait A Minute
Wind Horse Records serves as a champion of India's many talented resources for export to the outside world, all the while pioneering the deep house movement in its own country with releases, parties, and ground-breaking collaborations. Their newest release sees the label pairing up with an artist not far removed from India and of a similar mindset. Asvajit, a hardworking producer, label owner, and party thrower from Sri Lanka, has made a name for himself in and outside of his country through the always quality Bang Bang collective events and Jambutek Recordings platform which mirrors its independent underground artists. As a producer he has seen success molding the dub, house, and techno sounds to his own sensibilities, releasing on an assortment of international labels. Asvajit has received a global reception often proceeded by acclaim, like with his underground steamrolling collaboration with Soul Phiction, "Waran Dub".
Asvajit's take on the world-influenced deep house and tech sensibilities Wind Horse has defined itself by comes in chunky form. "Wait A Minute" places exotic leads, percussion, and ambience over a punchy groove, then shakes it up with nu-disco flair. It comes with all the bells and whistles, but heavy with tech upgrades. Its companion track, "Laptodyctalycus", also features a powerful backbone in the kick and bass departments and makes for a more emotionally charged and somber piece melodically. It contrasts the natural world of bird song with glitchy synthesized sounds to provide a lush landscape that can't be completely traversed with just one listen.
As is part of Wind Horse's charm, the cast of remixers is carefully crafted from all corners of the world. Steve Mill is a Greek-born Londoner with the backing of New Jersey's house master Kerri Chandler as part of the Madhouse Records family. To have that kind of pillar in support is a stamp of the highest 'house scene' approval and Mill's remix of "Wait A Minute" shows it. Made to dance, it features body-jacking snares, a full-bodied bass line, and plenty of mentally stimulating pops and clicks. In another flawless reworking of the source material, California's Sparkinzi turns "Laptodyctalycus" into a mesmerizing labyrinth of pianos and pads that winds itself into a deep acid trip. Finally, the trans-dimensional Indian artist Aaryan puts his vision to work creating an equally hypnotic and orchestrally rich rendition of "Laptodyctalycus". All of this makes for another Wind Horse Records release for the ages.