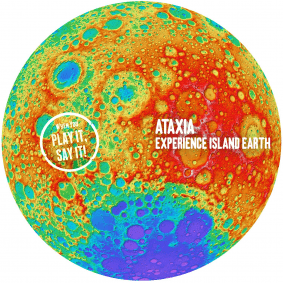 Ataxia – Experience Island Earth
The essential Detroit duo of Ataxia make more big moves with a fantastic new EP on Play It Say It.
Ataxia had a huge year in 2018 with EPs on this label, Visionquest and Kevin Saunderson's KMS following other releases on Leftroom and Nervous. All the while they have maintained their now ten-year residency at top Detroit venue TV Lounge and in the studio they continue to breathe new life into their grooves with elements of acid, cyber punk and futurism that have found favour from the likes of Seth Troxler, Jamie Jones and Marco Carola.
This fresh new offering opens with 'Six LFO', a warped track with sheet metal synths and twisted bass, filtered vocals that are dark and alien and a vibe that is brilliantly unusual. The equally inventive 'Mascara' is an acid jam with infectious drums and squiggling 303 lines, tripped out stabs and ghetto vocals that make a huge impact.
After the slick drum programming and woodpecker percussion of '3 Kinds of Yes' trap you in a groove, 'Island Earth' gets wonky with its slapping hits, curious samples and bubbling drums, then 'The Globe' has a loose feel, with spinning drum fills and freaky vocals, tribal bass and a real sense of pressure all building throughout.
These are five off kilter club cuts that bring plenty of new ideas to the table, and with style to spare.
Tracklist:
01 Six LFO
02 Mascara
03 3 Kinds Of Yes
04 Island Earth
05 The Globe