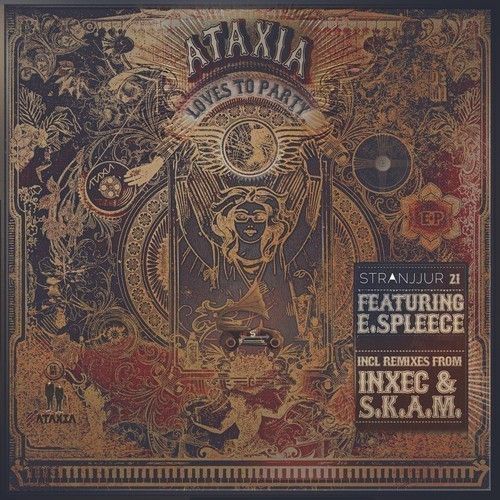 ATAXIA – Loves To Party Feat. E. Spleece
'In an industry that becomes increasingly saturated with new names by the minute, It still comes as no surprise to most that the up and coming Detroit-based duo Ataxia, comprised of Ted Krisko and Eric Hanna have quickly risen the ranks in the U.S. Underground scene over the past twelve months.
Following massive debuts on Culprit and Leftroom (LEFT'd) Ataxia now make their debut on Brooklyn's Stranjiur Imprint in collaboration with fellow Detroit stalwart, Eric Spleece aka E.Spleece. The trio come forth with their underground floor burner, aptly titled "Loves to Party".
Ataxia's original mix leads with an elasticised bouncing bass pattern that keeps the floor locked and loaded for the intoxicating breakdown that fills the room with good vibes, using some memorable recordings from the ridiculous world of U.S. Pop culture along with swirling pads and keys that help to keep the groove on the serious tip and bring the energy level up a notch once the addictive bassline settles back into motion at the cut's crescendo point.
On the remix tip, the highly sought-after skills of Inxec and S.K.A.M. Are drafted in order to provide darker and more strung-out renditions of the already heavily-knackered cut.
With a wide assortment of deadly cocktails to choose between, "Loves to Party" is sure to be a goto weapon of choice for both DJs and punters alike for quite some time. Viva la underground!
The first installment of the Loves to Party EP will drop digitally in mid-April on Stranjjur; and will soon be followed by a limited vinyl release that will include exclusive remixes which will be announced soon.
Forthcoming on Stranjjur will be massive Eps from The Black 80s, Baunz and many more.'
Stranjurr, 2014
Ataxia's 'Loves to Party' is released on Stranjurr 24th April 2014.