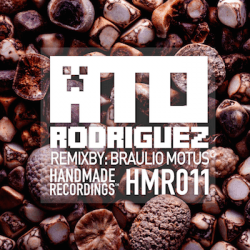 Ato Rodriguez- Walking On Dholpur
andmade Recordings has picked up Ato Rodriguez, a new artist from Madrid, Spain. Further fueling an early passion for music from his time spent at a young age enrolled in the conservatory, Ato eventually solidified his interest in electronic music by way of late '90s Madrid clubs. Over a decade of Ato honing his skills behind the decks has informed his very personal production style with clear influences from tried and true North American sounds peaking at the end of the '90s and beginning of the noughties. These moments in time are captured by his blend of house, funk, disco, and electro, all molded to today's pace whether solo or as half of Photone74.
His debut release for the label, "Walking On Dholpur", incorporates NY house hand percussion, deep and dubby techno stabs, guttural bass, and elements of minimal sound design. It's in the short moments of energetic outburst, and in the lead synth keys later introduced, that one of Ato's inspirations — Danny Tenaglia — is made ever-so-clear. Braulio Motus, a Filipino-born turned NY and San Fran raver transplant, fattens up Ato's work in his remix, creating a slower, heavier, and more menacing groove. The other original on this release, "Greg Chicago", layers the same note sequence of different instruments on top of each other, all from the starting foundation of a bass line. As the track progresses, it builds with a piano that slowly disappears into a more synthetic lead. It balances out the release with a light playfulness.