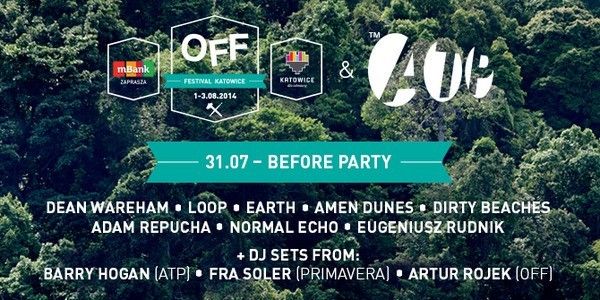 [email protected]: A Before Party Like You've Never Seen Before!
Can't wait for the next OFF Festival? Neither can we. And the worst part is just before the event, when you're not counting the days and weeks anymore, but the hours… We know that some of you will be coming a day early to get your musical fix, and that's why we're having a "before party" with an all-new format, curated by the legendary All Tomorrow's Parties festival, on Thursday, July 31.
The festival gets its name from the song by The Velvet Underground. Barry Hogan, the man who came up with idea for ATP, says he wanted it to be an antidote to huge corporate musical events. ATP wasn't meant to attract crowds; instead the point was to focus on top-notch alternative music and offer audiences an experience that they couldn't get anywhere else. Anyone who's ever sampled the unique vibe of ATP – be it in the winter, at England's seaside resorts, or at guest performances in London, New York, and Reykjavik – had to expect that its paths would one day cross those of the OFF Festival.
Says Barry Hogan from ATP: "We are thrilled to be hosting [email protected] this year. It's an event we have admired for many years and it's clear that Artur is cut from the same cloth as us at ATP. We look forward to more collaborations in the future."
Ladies and gentlemen, for the first time ever in this part of Europe, the legendary ATP will be collaborating with the OFF Festival. Come down to Katowice a day early and join us at the [email protected] before party – you'll remember this one for years to come!
[email protected] Program:
Hipnoza Club: Dean Wareham + Amen Dunes + Adam Repucha
Kinoteatr RIALTO: Loop + Dirty Beaches + Normal Echo Evangelical Protestant Church: Earth + Eugeniusz Rudnik
KATO.Bar: DJ sets by Barry Hogan (ATP), Fra Soler (PrimaveraSound) + Artur Rojek (OFF Festival)
Tickets:
Tickets available at our webstore www.offshop.pl as well as at Seeticket and Festicket. The KATO.Bar party is free.