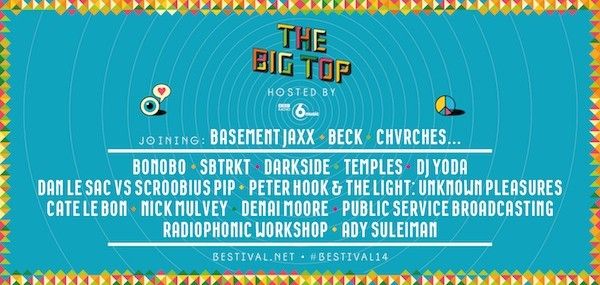 Electric Eclecticism – Bestival's Big Top Stage Revealed
The Big Top, old 'big blue' in the main arena is Bestival's action-packed, genre busting second largest stage, amidst a myriad of mind-blowing musical and immersive experiences and insane Bestival micro-parties. Opening the show on Thursday night with a line-up big enough to grace almost any other festival's main stage, it's where the best breakthrough acts rub shoulders with cult heroes and international favourites. Giving genre-specific cosiness a swerve, The Big Top is awe-inspiring eclecticism brought to life and programmed for maximum aceness. And this year it's going to be even better than ever, as, for the very first time, we have teamed up with BBC Radio 6 Music to present The Big Top Hosted by BBC Radio 6 Music on Thursday, Friday and Saturday, with the cream of 6 Music's presenter line-up DJing in between acts, bringing you the very best music round the clock.
Rob da Bank says: "I probably spend more time in The Big Top at Bestival than in any other space. The Main Stage has lots of huge and excellent acts on, but The Big Top is the intimate beating heart of Bestival and getting sweaty with 10,000 other Bestivalites to the most cutting edge indie, electronic and folk acts is always fun. I'm really pleased with the new additions from the incredible cinematic electronica of Nicolas Jaar's Darkside project through to dance mania from SBTRKT, the hottest indie band in the UK, Temples, and old friends Dan le Sac vs Scroobius Pip and Peter Hook doing Joy Division. See you down the front…if you're up for it!"
BBC Radio 6 Music Editor James Stirling said: "BBC Radio 6 Music is really excited to be working with Bestival for the first time this year. The fantastic line-up on The Big Top stage follows 6 Music's ethos of mixing alternative-spirited established artists such as Beck and Basement Jaxx with emerging talent such as Temples and Cate Le Bon. Some of our presenting family will be there DJing, introducing some of the artists on stage and generally bringing the spirit of the festival alive for our audience".
With a wealth of amazing talent already announced including a headline set from living legend Beck on Thursday evening, plus an appearance from the incredible Basement Jaxx, we're adding even more class to the Big Top Hosted by BBC Radio 6 Music with a host of spine-tingling virtuosos including Bonobo AKA Simon Green, who recently sold out the Sydney Opera House, and will be bringing the lush and lilting rhythms of his hugely acclaimed live show to mesmerise the Bestival massive. We will also welcome back long time Bestival favourite SBTRKT, who recently released luxuriant instrumental EP, Transitions, to smash up the dancefloor like only he can, Nicolas Jaar and Dave Harrington's Darkside will add brooding eclecticism, while psychedelic trailblazers Temples will make their first appearance demonstrating just what makes them one of the most talked about bands around.
The inimitable DJ Yoda will return to dazzle with his decksterity, dan le sac vs Scroobius Pip take on their home turf with killer beats and sublime rhymes, Peter Hook & the Light will perform landmark album Unknown Pleasures, superlative chanteuse Cate Le Bon will entrance with her beguiling presence and the super-hotly tipped Nick Mulvey will blow you away with his astounding song craft. There will also be sets from East London singer-songwriter Denai Moore, agitprop crusaders Public Service Broadcasting, legendary sonic adventurers Radiophonic Workshop and pigeonhole-defying crooner Ady Sulieman.
With a multifarious litany of fantastic names still to announce, the Big Top Hosted by BBC Radio 6 Music is the distilled essence of Bestival's legendary beyond eclectic philosophy and a stage you don't want to miss.
Disco Business:- www.Bestival.net / Facebook / Twitter / Tumblr and keep up with all the latest Desert Island Disco manoeuvres.