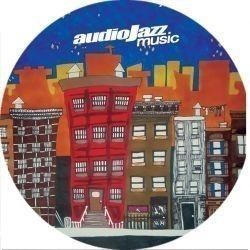 audioJazz – Summer City Nights / My House
Jazz-influenced harmonics and tech-inspired roots mix to create the distinct and eclectic sounds of audioJazz. DJ Bai-ee and musicians Dirty Turk and K Koltz collaborate to create imaginative music inspired by the house scenes of NYC and Chicago. The audioJazz sound is deeply rooted in house music's past but feels like something soon to come, 'future old school' if you will. The trio has ties to New York and Oakland but came together in Chicago, bringing each of their pronounced influences to the group. The result is an exploratory selection of deep house with an inclusive attitude, often featuring vocalists and musicians from across the country.
Following up the more raw live tracked studio recordings of the '7 Inch Music Sessions', audioJazz provides a deep refresher with "Summer City Nights" and "My House", newly prepped for vinyl release. "Summer City Nights" features the iconic voice of Yvonne Gage calling out for the return of summer nights after a long Chicago winter. Upbeat and hard-hitting, smooth soft pads, classic piano stabs, and a spongy bass line make for a '90s Windy City appeal. Starting off much softer, "My House" makes use of busy drums to propel the track forward before building into a swirl of psychedelic synths. audioJazz's Dirty Turk steps in the booth to let everyone know whose house this is over a Juno bass that rides the line between deep and driving.