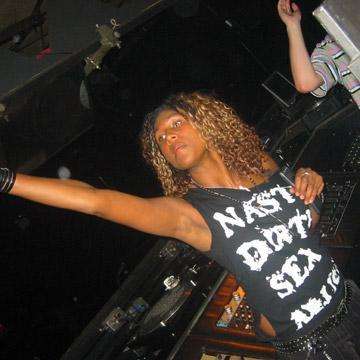 Podcast 056: Smokin' Jo
Smokin Jo has been DJ'ing since 1991 and has played in pretty much every corner of the globe and in every major nightspot you could care to mention. Womb in Tokyo, Panorama Bar in Berlin, Made / Warung in Brazil, Cavo Paradiso in Mykonos, Crobar in New York, Space in Miami, Vinyl in New York, Zouk in Singapore, Fabric in London and Cocoon in Frankfurt are just some of the venues she has played in recent years.
SMOKIN JO BIOGRAPHY
Smokin Jo is one of the most talented DJ's to emerge from the British dance music scene. Jo's undeniably cutting edge sound has carved her a niche in clubland.
She has played in pretty much every corner of the globe and in every major nightclub you could care to mention: Womb and Aghea in Tokyo, Panorama Bar in Berlin, Warung in Brazil, Cavo Paradiso in Mykonos, Crobar in New York, Space in Miami & Ibiza, Zouk in Singapore, Fabric in London and Cocoon in Frankfurt are just some of the venues she has played in recent years. She still holds a residency for We Love at Space in Ibiza each summer and is still the only female DJ to have won DJ magazines DJ Of The Year award.
On the production front Jo has been producing her own tracks released on Area Remote, her latest EP called Headz Down is out on April 30th with good reactions from all the major players .In January Jo released Listen Up an EP for Monique Speciale' the excellent Canadian label, in December she did a remix for Santos – Primitive Cannibal on the labels other signature Monique Music and last year Jo also released a track with D Ramirez called "Red Hot".
Jo also hooked up with fellow female producer Nicole Moudaber to collaborate on some tracks for Yellow Tail and has a collaborated on a release on Dirt Crew with Marc Romboy called "What Is it?". In the past Jo had been working under her moniker TRNSSTR (Transistor) alongside production partner Pete Gleadall. After the success of their live shows and first single 'Sausage Dog' with remixes from Davide Squillace and Plasmik, the second TRNSSTR single 'As You Like It' received major support from the likes of Luciano, Anja Schneider and Tiefscharwz to name a few.
Where did it all begin?
Jo's story began in 1990 when after years of attending many of the early raves and illegal parties she noticed a distinct lack of female DJs. As a massive fan of this exciting new music that was sweeping the nation, Jo decided to buy some decks and started mixing. From those early days it was always the deeper side of things Jo preferred, soulful sounding tracks that take you on a journey, no matter what style she plays from Techno to House it has to have meaning and a bassline to kill. Taking her stage name from the boxer Smoking Joe Fraser, Jo felt it provided ambiguity over an obviously feminine name as at the time it was seen as a novelty to be a female DJ (how times change!) It's thanks to women like Jo that these shifts in attitudes have taken place.
While working in the Gaultier shop in London's Soho, Jo made her first mix tapes and gave them to friends and customers to gauge their response. The reactions were better than expected and her first gigs quickly followed at fashion after-show parties. In 1991 Jo was given a chance to play at London's legendary after-hours party Trade at Turnmills. Seizing the opportunity she smashed the club, blending her mixture of deep house and techno and as a result was given a residency that lasted three years. Trade was her stepping stone into the big league. At that time Trade was the only after hours in London: all the promoters, Dj's and industry people came down to party religiously each week so in no time at all Jo was being booked to play at club events like Puscha, Boys Own, Tribal Gathering, Back to Basics, Cream and Full Circle. These gigs were the basis for her winning DJ Magazine's highly coveted DJ of the Year Award (she is still the only female DJ to have ever won this award).
After winning the award Jo headed off to Ibiza to play at Space for the first time in 1993, when the island was still relatively untouched. During that period she played at Amnesia, Pacha, Ku (Privilege) as well as many infamous secret beach and villa parties. This was when Jo's career took off on a global scale, seeing her regularly traveling all over the world every weekend, as well as maintaining a hectic schedule of the UK's top clubs: her demand was such that she often played up to 5 gigs in one night.
Back in Ibiza, after 15 years Jo still holds her residency at Space for We Love. Thanks to her knowledge of the Ibiza scene, in 2002 and 2003 she was assigned to present a 'postcards from Ibiza' report on Pete Tong's Essential Selection on Radio 1, giving weekly reports of all the latest club news and goings on there. In addition Jo was also asked to do an Essential Mix for Radio 1 as part of their 'Ibiza Heroes' series, which was broadcast on 20th September 2003.
Jo went on to mix the Terrace CD for the Space Album that was released on Azuli Records in 2003. This followed on from the other successful compilations she had under her belt such as 'Defected Sessions 14', 'DEF Com 2' and 'SJ01' released through Trust the DJ. At this time Jo was signed to Defected where she produced some successful releases for the label, including Yanu and Psycho Bitch, however Jo's demanding schedule meant that her productions at that time were few and far between. She also mixed a cover-mount CD for Muzik magazine in the summer of 2001 and more recently in 2006 she mixed the cover-mount CD for Mixmag which was hugely popular.
Jo's international credibility has led her to work alongside numerous iconic figures in the world of music and fashion. She has DJ'd at a Grace Jones concert, The Pet Shop Boys end of tour party, Skunk Anansie's album launch party, Jamiroqaui's South African tour parties, as well as at fashion events for the likes of Alexander McQueen, Michiko Koshinos and Julian Macdonald. Jo was signed-up by Storm Model Agency in their Celebrity Section and was the face of a major billboard campaign for the Sega video game Mortal Combat. 2002 saw Jo become the centre point of Pioneer's advertising campaign for their HDJ 1000 professional headphones. And on top of all this in 2002 Jo entered into the world of television and made her debut as a presenter for MTV: Dance in Ibiza as well as presenting for Radio One at Mardi Gras and in Ibiza in 2002.
In 2004/5 Jo was rocking the planet as one half of the dance floor phenomenon that was NastyDirtySexMusic. The parties were ultra-underground, word-of-mouth affairs with the ethos heavily geared towards cutting edge music and not making profit. The success of the NDSM parties saw it become We Love… Sundays at Space's newest resident that year, introducing the electro-house sound to an unsuspecting Ibiza crowd (not bad considering it started life as an illegal rave!) By late summer 2004 NDSM were playing in Space's The Red Box; fast forward to summer 2005 and NDSM were fully-fledged terrace regulars, a massive achievement in an incredibly small space of time. A full tour of Asia and Australia in the winter of 2004 also cemented NDSM's status as did a double CD mix compilation, released through Ministry of Sound in June 2005. MOS also played host to NastyDirtySexMusic nights on a bi-monthly basis which were among the busiest nights at the club for some time. After a whirlwind couple of years the guys decided to call time on the project on New Years Eve 2005.
Following on from NDSM, Jo promoted her own club night "Nude" with Terry Hart from Go!Zilla/Redlight. Nude ran parties in warehouses in London's East End and for two years hosted the terrace and discoteque at Space in Ibiza. The ethos of Nude was "anything goes", with outlandish freakish performers and cutting edge DJ's. These parties were the ultimate in debauchery and undergound sounds. Guest DJ's included Dan Ghenacia (Freak "n' Chic), Clive Henry (Circoloco), Giles Smith (secretsundaze), Radioslave and Moby. Nude came to an end in 2008 as Terry and Jo separated to work on other projects.
One thing's for sure that with bags of energy and a wealth of experience to draw-on it seems Jo still has plenty up her sleeve for the months and years ahead!