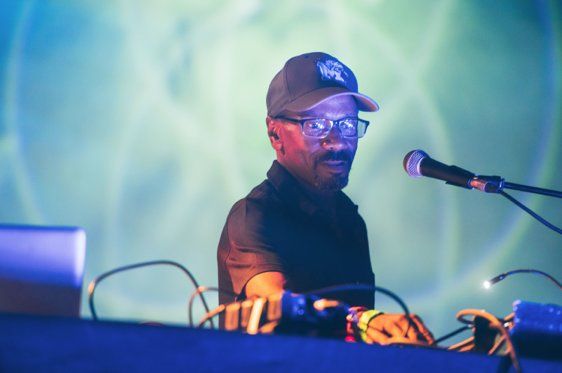 Ava Festival And Conference 2018 announce more acts…
A force to be reckoned with on the festival circuit, AVA (Audio Visual Arts) is one of Europe's most promising young events. Part festival and part conference, AVA adds heavyweight names joining for the Fri 1st – Sat 2nd June weekender, with a special keynote and debut NI show from Larry Heard aka Mr Fingers. Plus, the free AVA conference schedule which shines a light on local pioneers, while global industry leaders educate and inspire – think Kink live masterclass, Bicep discussing the creation of their album, Native Instruments, Pioneer DJ and Resident Advisor and more on board. Sign up to the conference, and purchase full festival tickets from just £70 at : http://avafestival.com/tickets/. Deposit Scheme tickets are still available, act fast to secure a place now. Truly one of a kind, AVA is an essential event for appreciators, creators and aficionados.
Having cemented its status as Ireland and Northern Ireland's leading electronic festival, AVA is known for bringing world class artists to Belfast, and 2018 is no different with legendary LARRY HEARD aka MR FINGERS heading for his long-awaited NI debut. An original kingpin of Chicago's house movement has conjured up real magic under his Mr. Fingers moniker and as Larry Heard for over 30 years. His no-holds barred dedication to the scene remains, as he releases his first album offering in 25 years this April. AVA are excited to welcome Larry to their S13 home, along with Floorplan, Bicep, DVS1, Kink, Mall Grab, Denis Sulta, Mano Le Tough and Midland, along with many breakout native stars including Or:la, Saoirse, and Sunil Sharpe. Of course, there'll be a motley crew of local Belfast stalwarts such as Timmy Stewart, Jordan, Swoose and Cromby and Sally C repping across the four dystopian warehouse space stages. Watch this space for stage splits and a groundbreaking full weekend Boiler Room programme. Don't sleep on the chance to get your ticket, with tickets available upfront from just £70, even better AVA Festival's bank balance friendly Deposit scheme is a no brainer, start at just £25 per instalment. Act fast to avoid disappointment. http://avafestival.com/tickets/.
Marking its move to Belfast's contemporary arts centre, the MAC hosts AVA's revered conference in what's set to be it's most awe-inducing programme yet. Topping the bill, the iconic house music purveyor, Larry Heard discusses his legendary career so far along with releasing his first album in 25 years, in AVA Conference's lead keynote. Expect timeless wisdom, inspiring tales and insider knowledge at AVA Festival. Uncompromising in it's fourth year offerings, alongside Larry Heard, AVA hosts a selection of the electronic music elite, with Bicep discussing their globally acclaimed album and live show, Kink bringing an unmissable live masterclass, Saoirse and many others on industry elements and key learnings. Tech giants, Native Instruments and Pioneer DJ present workshops, showcasing the offerings which have set them as industry leaders. Local label and collective, Extended Play share tacit knowledge, spanning years of underground activity, bringing tips on how to run a label to the table, plus learn about licensing and rights learning from established institutions PRS For Music and AFEM. Offering a look into the ever-important worlds of digital media in music will be key cultural publications District Magazine and This Greedy Pig.
AVA run their Emerging Talent programme again, giving breakthrough artists a global platform to purvey the sounds of a unique scene, while Help Musicians NI and Musicians Union offer essential advice to local talent. With all this to come on the first day of AVA. Sign up for here: http://avafestival.com/tickets/
Historically rich, buzzing with creativity and great craic, AVA is the ideal chance to soak up spirit of Belfast without breaking the bank. With affordable flights from major UK / EU airports, plus a great choice of accommodation from hotels, hostels and Air BnB's just a stone's throw from the site, it's an ideal weekend escape. For flights, travel and accommodation, please head to: http://avafestival.com/info/
AVA FESTIVAL LINE UP :
Larry Heard aka Mr Fingers (LIVE)
Floorplan – KiNK (Live) – Bicep – Helena Hauff – Rodhad – DVS1 – Hunee – Denis Sulta – Mall Grab – Job Jobse – Mano Le Tough – Jayda G – Midland – Or:la – Hammer – Overmono (Live) – Saoirse – Timmy Stewart – Sunil Sharpe – Sassy J – Moxie – Mella Dee – Twitch – Swoose + Cromby – Jordan – Inside Moves – Brame + Hamo -Jika Jika – Sally C – DJ Deece – Misfit – Mark Blair – Long Island Sound – Nez – LOR – Quinton Campbell – Cailin – – Carlton Doom – Peter Brien – Holly Lester – Dallas – GIRL – Guerrilla Shout – Cave DJs – Alice B2B Lucy Ironmonger (Meat Free) – High Hoops
AVA CONFERENCE PROGRAMME :
In Conversation with:
Larry Heard aka Mr Fingers – Bicep – KiNK (Live Masterclass)
Panels, Workshops + Tech Drop In:
Native Sessions – Smirnoff Sound Collective – Help Musicians NI – Resident Advisor – Pioneer DJ – Extended Play – Saoirse – PRS For Music – AFEM – District Magazine – This Greedy Pig – Musicians Union – Record Fair – AVA Pro – Emerging Talent Programmes