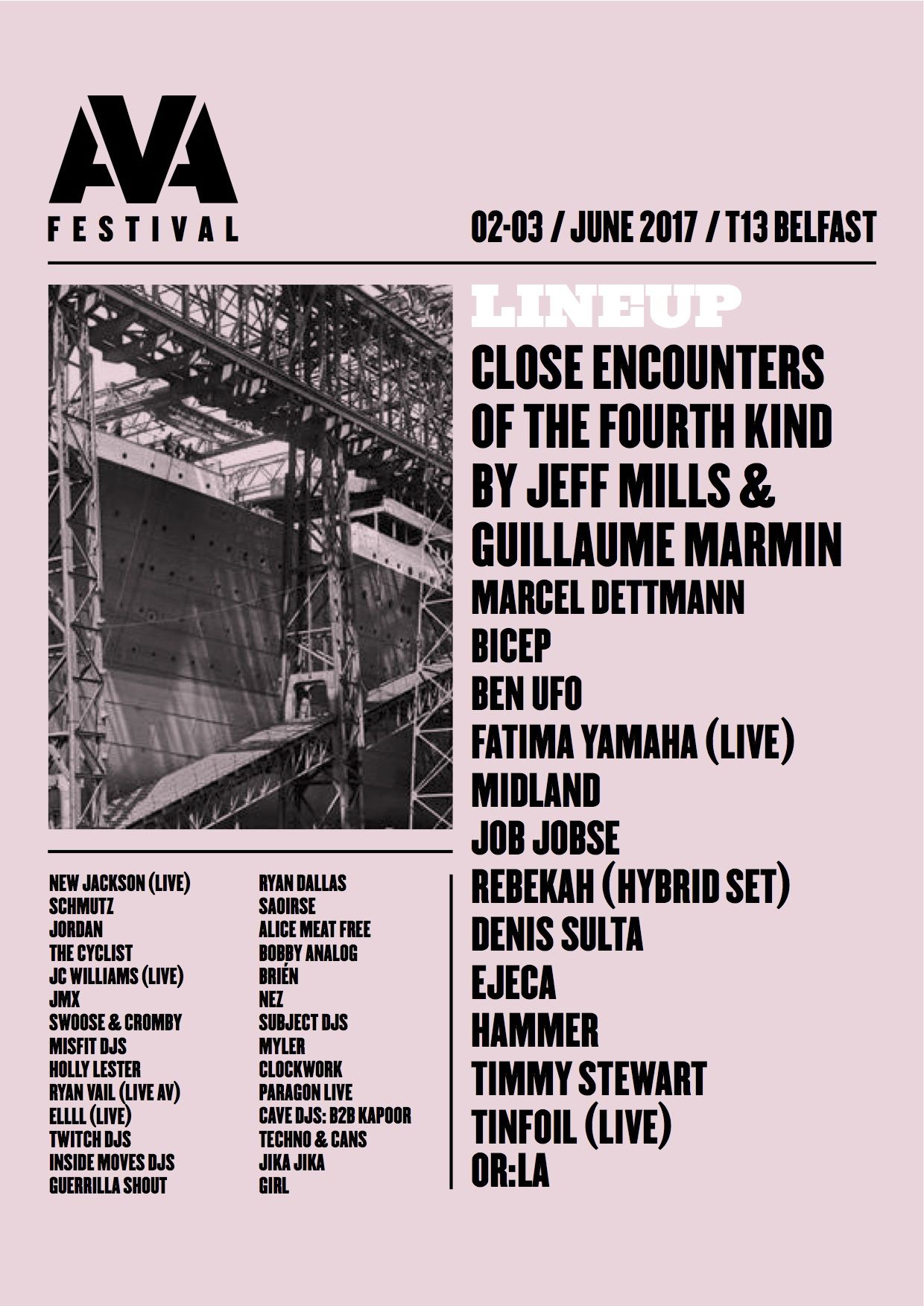 AVA FESTIVAL AND CONFERENCE IS BACK ACROSS TWO DAYS FOR 2017!
AVA returns to T13 Belfast, announcing a UK and Ireland debut of Jeff Mills and Guillaume Marmin's collaboration, Marcel Dettmann, Bicep, Ben UFO, Fatima Yamaha Live, Midland, Re- bekah, Job Jobse, Denis Sulta, plus Irish talents Or:La, Hammer, Saoirse, The Cyclist, Ryan Vail, Jordan, JMX and much more still to come.
For the third year running, AVA (Audio Visual Arts) Festival and Conference is set to return to its Belfast home at T13, this time across two days on the 2nd and 3rd of June 2017. For it's first full weekend outing, AVA pulls out all the stops with a packed agenda of conferences, talks, music and arts from a wealth of global and local artists. You'll find a rare Jeff Mills and Guillaume Marmin collaboration, Marcel Dettmann, Bicep, Fatima Yamaha Live, Rebekah Hybrid set, TinFoil Live and a host of local legends ready to descend across the vast Belfast warehouse space. On top of this, there's the return of the almighty Boiler Room, plus AVA's all-important conference on the Friday will educate on all areas of the music industry and technology. With weekend tickets starting from £50 and flights to Belfast for around the £20 mark, there's no excuse not to be a part of AVA 2017.
Line up so far:
CLOSE ENCOUNTERS OF THE 4TH KIND by JEFF MILLS & GUILLAUME MARMIN Marcel Dettmann – Bicep – Fatima Yamaha LIVE – Midland – Ben UFO – Job Jobse – Rebekah (Hybrid Set) – Ejeca – Denis Sulta – New Jackson LIVE – Timmy Stewart – TinFoil Live (Sunil Sharpe & DeFekT) – Techno & Cans Crew – Jordan – Hammer – Or:La – Myler – Schmutz – Twitch DJs – Inside Moves DJs – Saoirse – Guerilla Shout – The Cyclist – Ryan Vail LIVE AV & Album Tour – Swoose & Cromby – MisFit DJ's – Subject DJs – Alice Meat Free – ELLLL Live – JMX – JC Williams LIVE – Holly Lester – Bobby Analog – Brie?n – Nez – Ryan Dallas – Clockwork – Paragon Live – Cave DJs: B2B Kapoor – Jika Jika – GIRL