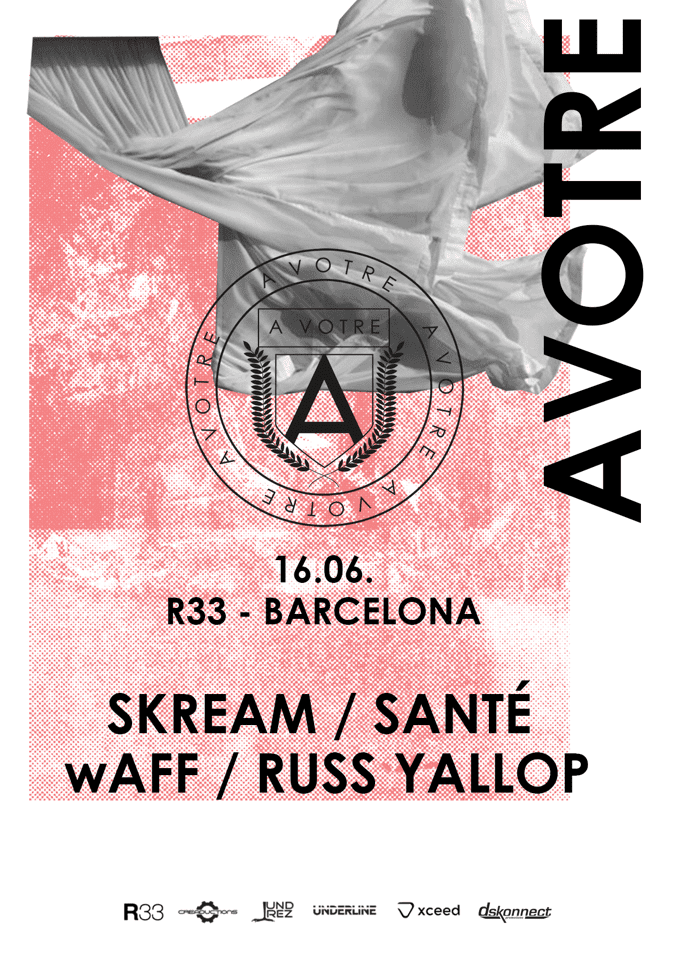 Avotre Announce 'OFF Week' Party at R33 – Barcelona
Having become globally synonymous for bringing forward thinking programming and deeply underground vibes, the AVOTRE imprint heads back to Barcelona with a line up of all-star selectors, representing the very best dance music has to offer.

Kicking off the city's now infamous 'Off Week' on 16th June, the AVOTREcrew take over leading BCN venue R33 for a roadblock event setting the bar high for the week's festivities.

Heading up the bill is South London powerhouse DJ/producer Skream. Having made a name for himself as one of the scene's most versatile artists, Skream has roots in Dubstep, Drum 'n' Bass, UK Garage, House and Techno – making him the perfect addition to AVOTRE's growing repertoire of main room commanding acts.

Next up is label boss Santé. An artist that needs little introduction, Santélaunched the AVOTRE imprint in 2013 and has been touring the brand throughout the world's premiere clubbing destinations ever since – all the while releasing a steady stream of genre defining records. On course to drop the label's 50th release by the close of 2017, the Berlin based tastemaker's high energy DJ sets and air tight production have cemented his place amongst dance music's elite.

Rising superstar wAFF also joins the bill. Having forged a reputation for genre blurring DJ sets and technically exceptional production, wAFF brings an element of stage presence to every show that comes from a true understanding of the rave scene. No stranger to the AVOTRE label and tour line ups, wAFF has come to define the AVOTRE sound and party spirit.

Rounding off the bill is Paradise resident and AVOTRE regular Russ Yallop. After dropping a succession of huge releases through the imprint, Russ makes a welcome return to the AVOTRE family for what is set to be one of the week's highlight events.
EVENT INFO

16th JUNE 2017: Santé / Skream / Russ Yallop / wAFF
Venue: R33, Barcelona
Times: 11PM -6:45AM