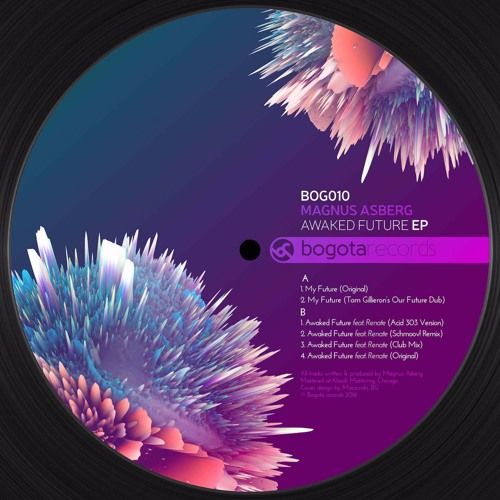 Magnus Asberg - Awaked Future EP
Bogota Records trains its sights on the vibrant house music scene of London-by-the-Sea for an expressive new single from Brighton's veteran DJ and promoter Magnus Asberg. After a thirty year history behind the decks, in the studio, and organizing hundreds of debaucherous parties, Magnus's ear for quality sounds has held the respect of those in-the-know for a long while. Under his own name as well as through this pseudonym C-Soul, Magnus has released tunes with an esteemed group of labels including DIY Discs, Plastic City, Ornate Music, and his own On The House imprint. Now he debuts on Bogota Records with an accomplished set of tunes collected as the Awaked Future EP.
"My Future" opens the EP with a spacey bounce and hypnotic, deep march in its opening rhythm. Tripped-out vocal snippets and measured effect treatments phase in and out of the mix, creating a heady stew that will please the most underground of deep house selectors. The track gets a fleshing out by London's Tom Gillieron (RvS Music, Eye-Q) who elegantly layers sheets of sound over the basic beat. This one's filled with psychedelic mania, and its nearly 12 minute runtime doesn't include a single second of mundanity.
The EP takes a slight left turn with four distinct versions of "Awaked Future" which feature the vocals of Renate, a familiar name to fans of the Bogota label. Magnus provides an original version, a Club Version, and an Acid 303 Version to satisfy the different moods of the DJ. The dreamy, '90s style house of the original is masterfully complimented by the acid stylings of the Acid 303 Version, and the Club Version accentuates the cosmic good vibes with some punched up drums and embellishments. Also, Schmoov! (Winding Road Records, Large) is on hand to deliver an especially warm deep house remix of "Awaked Future" utilizing the lovely vocal and some spacious chord-play in a masterful manner.
Label and Artist Links:
www.bogotarecords.com
www.facebook.com/bogotarecord