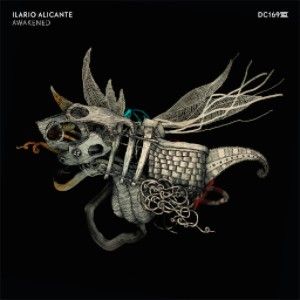 Ilario Alicante - Awakened EP
Ilario Alicante's full length Drumcode debut EP, 'Awakened', is out today. To celebrate the release, Ilario provided a full studio mix for the latest episode of label boss Adam Beyer's Drumcode Live radio show – listen back here.
The EP kicks off with the rattling percussion and thundering bassline of 'Times', a recognisable synth melody slowly building over propulsive cymbals. Title track 'Awakened' is up next – having already appeared in a number of Adam Beyer's recent sets, bubbling arpeggios and an echoing vocal sample make it a distinctive track. Third track 'Sense' goes deeper and darker, an industrial tool made for peak time sets. The more downbeat, siren like 'Apogeo' closes out the package.
'Awakened' is a high quality addition to both Ilario's ever growing and diverse discography, whilst fitting in perfectly with the distinctive Drumcode aesthetic. With previous releases on the likes of Cocoon, Soma and Deep Moves, Ilario is carving his niche as a producer within the techno community.
About Ilario Alicante
Italian-born, Berlin-based Ilario Alicante has been at the forefront of the European techno scene from a young age – he first played Time Warp when he was only 15 and has been playing ever since. Before he got picked up by Sven Väth for Cocoon, he was playing at Berghain when he was still only 21. He now regularly releases on Cocoon, has collaborated with Tale Of Us, and had his productions remixed by Rødhad and Ryan Elliott – with recent releases coming out on Drumcode and Soma. His DJing is highly respected amongst his peers, with Adam Beyer noting "I just love his DJing, he's very creative, he's always using bits and pieces in his sets you wouldn't expect, he plays classics you might have forgotten about – this for me is all the good trademarks of a great DJ." The launch of his new label Virgo signifies the next step for Ilario; a producer, DJ and tastemaker at the top of his game.
Tracklist
01. Times
02. Awakened
03. Sense
04. Apogeo
For more information on Ilario Alicante, please visit
https://www.facebook.com/ILARIOALICANTEOFFICIAL/
https://twitter.com/ilarioalicante
https://soundcloud.com/ilario-alicante