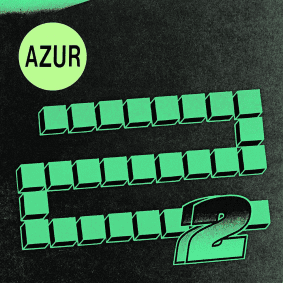 Azur – 2 EP
Azur is back on Partyfine with a second EP that again showcases his scientific approach to rhythm and sound.
French producer and drummer Antoine Pouilly makes elegant electronic music where a keen sense of melody, a touch of melancholy and the zest of exoticism all coalesce into fresh grooves. This 2nd EP on the label is more direct and influenced by the grey wave of New Hollywood, with elements of acid and a raw aesthetic.
Opener 'Debbies' is a strobe lit cut with laser like synths and supersized hi hats. Rugged bass and acid twitches get layered up over a libidinous vocal and make for a track that is both intense yet soulful. The fantastic 'Needle Park' is a mid tempo acid chugger with ghoulish effects and mechanical drums all making for something perfectly suited to a dark and intimate club. 'Pluie Acide' is a brilliantly jacking acid assault, with cowbells and rasping bass and 303s firing off in all directions to make for something edgy and bristling. Last of all, the cosmic and uplifting 'Hundred and Five' slows things down but is just as rugged and raw, with arpeggiated synths but more of those diffuse female vocals adding a softer human element.
This standout second episode contrasts with the sunnier sounds of the first and shows that Azur is eager to explore new sonic territories.
Tracklist:
1. Debbies
2. Needle Park
3. Pluie Acide
4. Hundred and Five