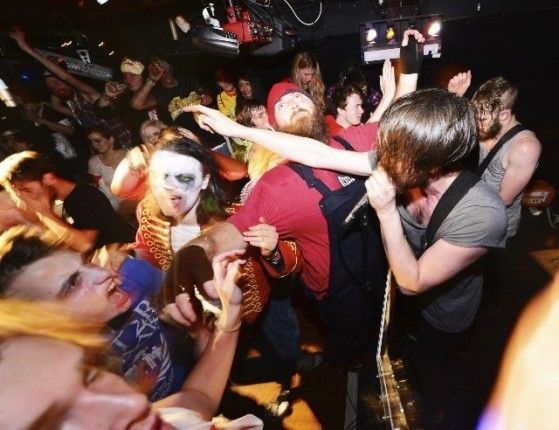 Baby Godzilla's riotous live set shuts down the Crossfire Halloween Massacre
This year's Crossfire Halloween Massacre in association with Vans was shut down on Saturday night following the riot ignited by Baby Godzilla's explosive live set that almost set the Battersea Barge on fire.
The Nottingham four-piece known for their incendiary live performances were only able to play some of their planned set following a raucous mosh pit that ripped down electric cables and lights shorting the electricity. As the lights went out for the second time, the boat owners called time on the show to stop the sparks and allow the blood thirsty crowd to regroup after the chaos.
"It was the most ridiculous gig we've ever played, possibly ever been to," said frontman Matt Reynolds. "The crowd literally ripped the place apart and they pulled the plug on us after 4 songs due to concerns about how much boat would remain at the end. Utterly insane and a thing of absolute fucking beauty."
A sound curfew that lasted almost an hour was put in place by the Barge owners who had "never seen anything like it" and were furious with the band. The damage was cleaned up and the party was allowed to continue with Enter Shikari members Rob Rolfe and Rou Reynolds from the Shikari Sound System on the decks who managed to end the night with a stomping party set.

"Crossfire's Massacre was a raucous night of debauchery as always," confirmed Rolfe. "Baby Godzilla tore the place apart, literally! There were fantastic outfits, big tunes and sore heads all round the next morning; it was a truly splendid occasion!"
Photo's and footage can be found this week at www.caughtinthecrossfire.com